Bell Road/Grand Avenue Interchange Project Update
Bell Road/Grand Avenue Interchange Project Update
SURPRISE – Work on the future interchange to improve connections between Grand Avenue (US 60) and Bell Road in Surprise stayed on course following the Memorial Day weekend. Crews on the Arizona Department of Transportation's $41.9 million project worked on the support piers to hold the future Bell Road overpass traveling over Grand Avenue and the parallel BNSF Railway tracks.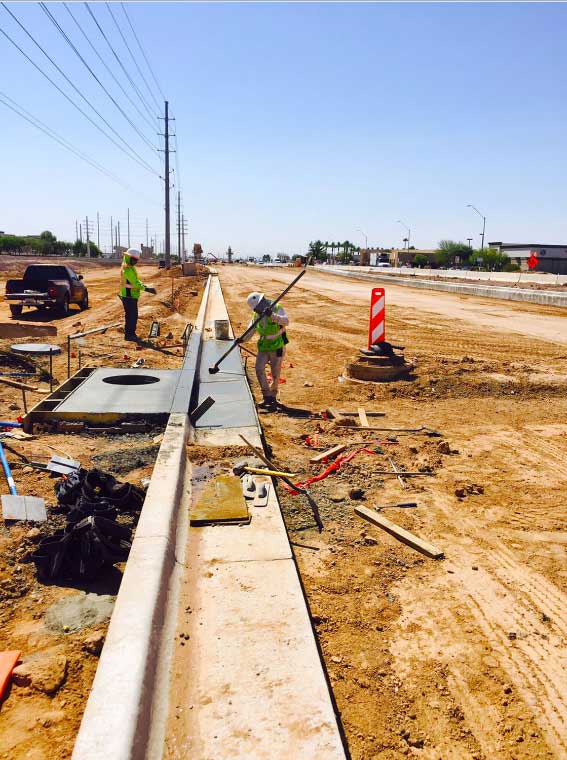 Preparations also are underway to pave the new westbound Grand Avenue lanes near Bell Road. Crews have been finishing sections of curb and gutter for the improved westbound Grand Avenue lanes that will travel beneath the Bell Road overpass.
Construction of a new 134th Avenue connection to Bell Road has also advanced.
The project team remains on schedule to reopen the closed section of Bell Road between 134th Drive and West Point Parkway by November, in time for the traditional holiday shopping season.
Access to businesses in the area near the closure continues to be maintained.
Bell Road traffic can detour in the area by using Dysart, Greenway and Litchfield roads. Drivers should use caution in the area, obey traffic signs and posted speed limits. Law enforcement officers are monitoring traffic conditions and keeping an eye out for unsafe driving behavior.