Bell/Grand project: Connecting columns sets stage next phase of construction
Bell/Grand project: Connecting columns sets stage next phase of construction
SURPRISE ‒ Things are coming together at Bell Road and Grand Avenue (US 60) as crews pour concrete platforms connecting columns for girders that will support a $41.9 million overpass and interchange.
Once rows of columns are completed on both sides of Grand Avenue, crews install wood forms for these concrete platforms, or caps. Later, girders will be placed on them to carry Bell Road over Grand Avenue and the BNSF Railway tracks.
Other work scheduled for the coming week includes installing underground utilities on Bell Road east of 134th Drive and along the new alignment of 134th Avenue, and also preparing to pave and form the curb on the east side of Grand Avenue.
All Grand Avenue traffic in the project area is using lanes that normally carry traffic southeast. When paving and other work is completed for lanes that will carry traffic northwest, all traffic will switch to that side and work will begin work on the southeast-bound lanes.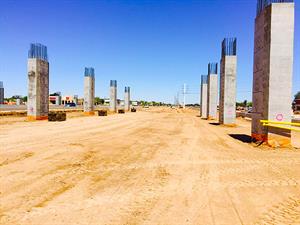 The Arizona Department of Transportation's project remains on schedule for Bell Road to reopen by November. A full closure between 134th Drive and West Point Parkway is allowing faster construction that will have Bell Road open in time for the holiday shopping season.
The primary detour route is along Dysart, Greenway and Litchfield roads. Please obey all traffic signs and posted speed limits, and also note that additional law enforcement is on patrol.
Access to businesses next to the project area will be maintained throughout the project.