Cleaning ADOT freeway pump stations is year-round effort
Cleaning ADOT freeway pump stations is year-round effort
PHOENIX – When stormwater from Valley rains, including monsoon thunderstorms, makes its way through freeway drainage systems, that runoff carries a lot of trash into the Arizona Department of Transportation's pump stations.
It takes some powerful vacuums to remove litter, debris and sludge from the 59 pump stations along Phoenix-area freeways. And ADOT has a big machine for the job.
The agency's hydrovac truck, in operation for two years, weighs 30 tons and can vacuum more than 3,000 gallons of liquid, dirt and debris into one of its large tanks. It also holds 1,500 gallons of fresh water used to spray down what it pulls up from the bottom of pump stations as well as pipes and basins along the Valley freeway system.
Built-up trash inside pump stations can block large grates, sometimes hindering the flow of water to the pumps. Drivers and their passengers can help keep drainage systems operating at full capacity by reducing litter from vehicles.
For ADOT, cleaning drainage systems so they are ready for storms is a constant effort, not just something done before Arizona's summer monsoon. Powerful storms this past winter proved the importance of cleaning and maintaining pump stations and drainage catch basins throughout the year.
In addition to using its own hydrovac truck, ADOT uses contractors to remove debris from pump stations. Having its own hydrovac has benefited ADOT, especially since the truck is available for any emergencies involving standing water along freeways.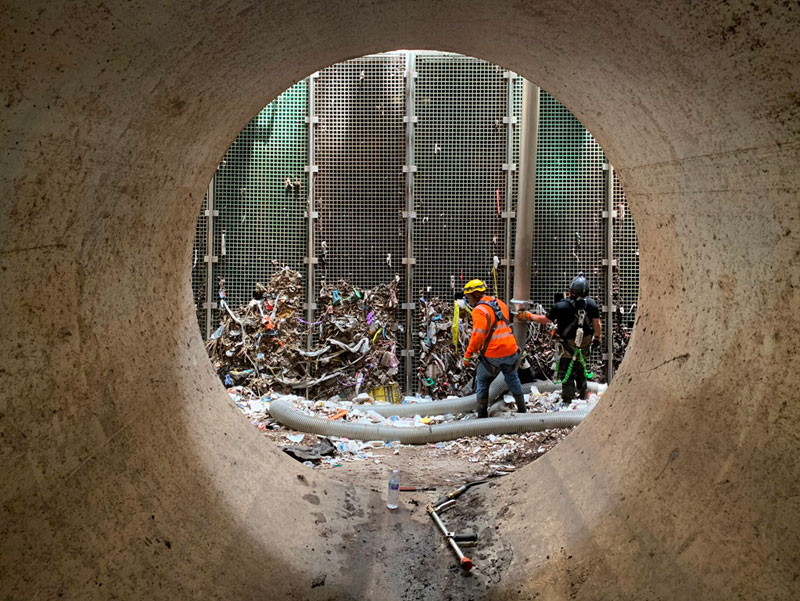 Freeway pump stations typically have three to five pumps, all driven by powerful engines, to lift stormwater that gathers in a storage well and send it into nearby drainage channels or retention basins.
An individual pump inside an ADOT pump station can remove more than 12,000 gallons per minute – the equivalent of emptying a 30,000 gallon swimming pool in less than 3 minutes.
As monsoon season begins, ADOT staff will monitor weather forecasts in order to prepare for challenges associated with storm runoff. Localized storms that drop more than 2 inches of rain in an hour can tax any drainage system, including those along Valley freeways.
Meanwhile, you can help pump stations and other drainage systems operate at peak efficiency by not littering. If you see someone littering on a highway, please consider reporting the license number and what you saw to ADOT's Litter Hotline at Litter.az.gov or 877.3LITTER (877.354.8837). While littering can result in a $500 if law enforcement spots the offense, a report to the Litter Hotline results in the vehicle owner receiving a litter bag and a letter explaining how costly littering is for ADOT and all of Arizona.