First I-10 access road to open Wednesday as South Mountain Freeway progresses
First I-10 access road to open Wednesday as South Mountain Freeway progresses
PHOENIX – A newly-built roadway adjacent to Interstate 10 in the West Valley will open to traffic this week, restoring 59th Avenue access after Loop 202 South Mountain Freeway construction required a permanent shift in traffic flow.
After the westbound I-10 off-ramp at 59th Avenue was closed and removed last month to make room for connecting ramps leading to and from the new freeway-to-freeway interchange, I-10 westbound motorists looking to access 59th Avenue have been forced to exit the freeway at 51st Avenue and detour to connect with 59th Avenue.
Beginning early Wednesday morning, May 2, westbound I-10 motorists will be able to bypass that detour and instead use the new two-lane access road that runs parallel to I-10 and reestablishes direct freeway access to 59th Avenue.
The first leg of the westbound I-10 access road between 51st and 59th avenues will open May 2. Then, following this weekend's closure of westbound I-10 between 51st and 67th avenues for bridge construction (May 4-7), the westbound access road between 59th and 67th avenues will open.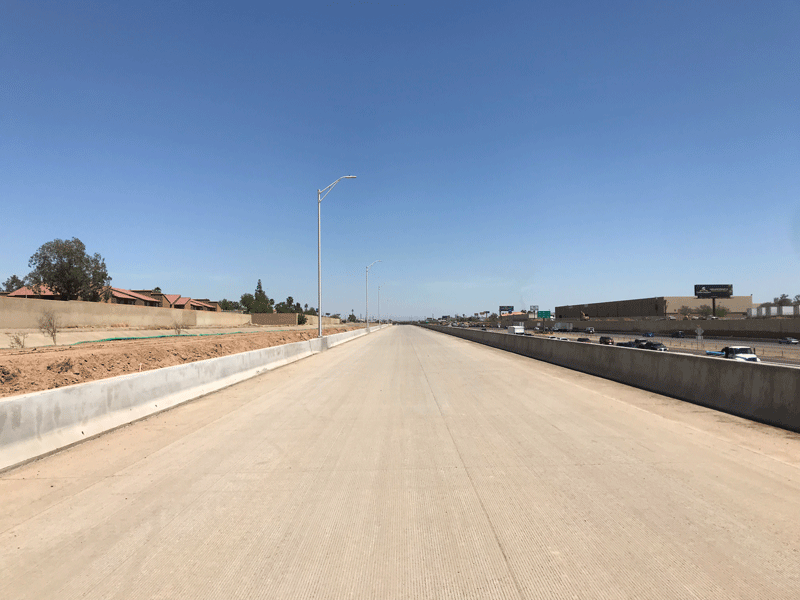 Later this summer, the Arizona Department of Transportation and Connect 202 Partners, the South Mountain Freeway developer, will close the access road between 59th and 67th avenues for an extended period to replace the temporary ramp connector and construct a permanent ramp connector.
As part of this work, which began in late January, several I-10 ramps must be reconstructed to tie into a wider I-10 that will include connecting ramps to and from the South Mountain Freeway when it opens in late 2019.
Long-term and permanent closures of existing on-and-off ramps are necessary between 51st and 67th avenues until all of the new two-mile-long access roads are completed by fall 2018. The eastbound I-10 access roads are currently under construction.
The 22-mile freeway will provide a long-planned direct link between the East Valley and West Valley and a much-needed alternative to Interstate 10 through downtown Phoenix. Approved by Maricopa County voters in 1985 and again in 2004 as part of a comprehensive regional transportation plan, the South Mountain Freeway will complete the Loop 202 and Loop 101 freeway system in the Valley.
For more information, visit SouthMountainFreeway.com.