Modernized Cordes Junction traffic interchange aids local, regional travel
Modernized Cordes Junction traffic interchange aids local, regional travel
PHOENIX — A regular destination for drivers headed to the Flagstaff or Prescott areas, the junction of Interstate 17 and State Route 69 has been described as the "gateway to northern Arizona," but in recent years the outdated Cordes Junction traffic interchange had started to show its age.
Built in the early 1960s, the Cordes Junction traffic interchange carried far more traffic than it was designed to accommodate. With traffic volumes expected to double in the coming decades, the Arizona Department of Transportation began a task in the summer of 2011 to redesign and rebuild the busy interchange, which is located approximately 65 miles north of downtown Phoenix, with minimal disruption to traffic.
The solution was a $50.9 million project that would transform the outdated intersection design that forced slower local traffic to mix with high-speed highway traffic, causing congestion and safety concerns. Two years after construction started, ADOT has completed the project on budget and on time. The final piece of the project will include permanent lane striping, which will be completed in the weeks ahead.
"There was a huge need for this project and it was eagerly anticipated by members of the community," said ADOT Prescott District Engineer Alvin Stump. "Thousands of visitors, truck drivers and business travelers use I-17 and SR 69 en route to other destinations in Arizona and neighboring states.
"Plus, the Cordes Junction interchange provides access for numerous tourist attractions and recreational areas locally, not to mention that many travelers use services at the Cordes Junction interchange because of its central location between Flagstaff and Phoenix," Stump said.
The new diamond-shaped interchange was designed to improve traffic flow and safety, while separating local and highway traffic.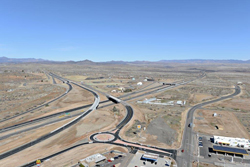 "The new Cordes Junction traffic interchange has greatly enhanced the ability of our school bus drivers to safely move children through the Cordes Lakes area. Safety is our No. 1 priority," said Mayer Unified School District Superintendent Dean Slaga. "In addition to improving safety and allowing for easier access to Cordes Lakes, the project should be a boon for the local community and will allow for future business growth for decades to come."
The largest project (in terms of cost) in northern Arizona the last two years, the Cordes Junction traffic interchange was completed in four phases and included:
Construction of a new traffic interchange approximately one-half mile north of the existing interchange
Removal of the outdated on- and off-ramps
Construction of new ramps to separate Prescott-bound traffic from local traffic traveling at slower speeds
Replacement of the existing bridges carrying I-17 over Big Bug Creek
Construction of seven new bridges and three local roads (Copper Star Road, Arcosanti Road, Stagecoach Trail), installation of two roundabouts and improvements to local stormwater drainage.
With the communities of Cordes Lakes, Spring Valley and Mayer located only a few miles from the intersection, ADOT wanted to incorporate key elements of the area adjacent to the project. To do that, ADOT sought out famed Italian-American architect Paolo Soleri, who established Arcosanti, an artists' community and a popular tourist attraction that is located approximately two miles northeast of the traffic interchange.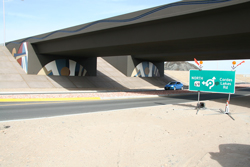 Soleri's artistic vision is on display on some of the retaining walls and abutments on the bridges at the interchange. Soleri, who worked as a project consultant for ADOT, died April 9 at age 93. Most of his artwork was completed prior to his death and his designs will be on display for drivers who pass through the area.
"Cordes Junction is often described as the gateway to northern Arizona," said Arcosanti General Manager Mary Hoadley. "Working on the designs for the artwork displayed at the interchange was a rewarding experience for Paolo Soleri. In the three years of design development and construction it was eye opening for him to see all the problem solving and teamwork that took place to get his abstract artwork to come to life."
Project Milestones
August 2011 – Construction begins.
November 2011 – Work begins on new Arcosanti Bridge abutments; Copper Star Road opens to traffic.
March 2012 – Girders placed on the new Cordes Lakes Road Bridge.
June 2012 – New northbound Big Bug Bridge on I-17 opens to traffic; work begins on new west roundabout.
July 2012 – Work on southbound Big Bug Bridge on I-17 begins.
September 2012 – Newly paved Stagecoach Drive opens to traffic (the local road was previously unpaved).
October 2012 – I-17 on- and off-ramps open at Arcosanti traffic interchange; new west roundabout opens to traffic; old northbound loop on-ramp and old southbound loop off-ramp close; new Cordes Lakes Bridge opens to traffic and old northbound SR 69 ramp closes; girders placed on southbound Big Bug Bridge on I-17; SR 69 bridges are painted.
November 2012 – Arcosanti Bridge opens to traffic. Work begins on new east roundabout; demolition of old Cordes Lakes Bridge.
December 2012 – New northbound I-17 to northbound SR 69 flyover bridge opens.
January 2013 – Southbound Big Bug Bridge on I-17 opens to traffic; northbound and southbound I-17 open to normal lane configuration; completion of east roundabout.
June 28, 2013 – Project completion.
August 2013 – Final lane striping.