Moving chuckwallas part of South Mountain Freeway plans
Moving chuckwallas part of South Mountain Freeway plans
PHOENIX – On several hot summer mornings, biologists dressed in hiking gear searched crannies along ridges in the southwest corner of the South Mountain Park/Preserve. Their mission: finding and then relocating the elusive chuckwalla.
These large lizards, which are common in the U.S. Southwest and northern Mexico, include the orange-tailed males that are unique to the South Mountain Park/Preserve. While most animals flee when threatened, chuckwallas wedge themselves deep in cracks between rocks.
That's why the Arizona Department of Transportation, in partnership with the Arizona Game and Fish Department, the Gila River Indian Community's Department of Environmental Quality and South Mountain Park/Preserve, is working to relocate chuckwallas in the small portion of the preserve where the Loop 202 South Mountain Freeway will pass. Construction in this segment of the 22-mile freeway corridor is scheduled to begin in mid-2018.
"With the work that we are doing in collaboration with our partners, we believe the chuckwalla population will continue to thrive in the area surrounding the South Mountain Freeway," said ADOT biologist Kris Gade.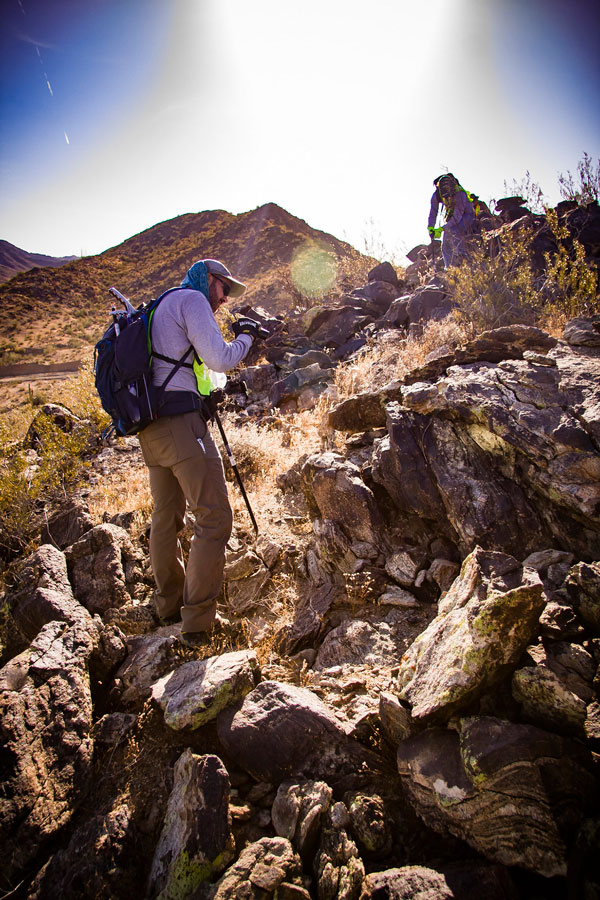 Capturing these lizards, which can measure up to 15 inches long, was no easy task. Groups of four to eight biologists made multiple passes, looking deep into crevices in the rocks with flashlights. If a lizard was spotted, the biologists would first attempt to grab it with their gloved hands before the chuckwalla could dive deeper into a crack. If the chuckwalla wiggled too deeply into a narrow crack, it sometimes required multiple biologists to move the rock with a pry bar while another made the capture.
Approximately 120 chuckwallas were captured and released several hundred feet away.
Before they were released, the chuckwallas were weighed and measured, and their feet were tagged with white paint. In addition, 15 chuckwallas were fitted with radio telemetry harnesses so biologists can track their movements. And all got a tiny transponder tag inserted beneath their skin to help biologists identify them during future surveys.
"The Arizona Game and Fish Department routinely works with ADOT to minimize wildlife impacts by highway construction projects," said Daniel Leavitt, the Arizona Game and Fish Department herpetologist who led the department's chuckwalla efforts. "That is why it is key to learn what we can about chuckwallas that may impacted by this project and safely relocate them to a new area nearby. Data collected during this partnership will be used to assist in decisions to help conserve and protect chuckwallas and other wildlife near the Loop 202 extension in the future."
Relocating chuckwallas is just one example of ADOT's environmental stewardship during construction of the South Mountain Freeway. As with any ADOT project, this began with a biological evaluation to determine what impacts the work will have on plants and animals.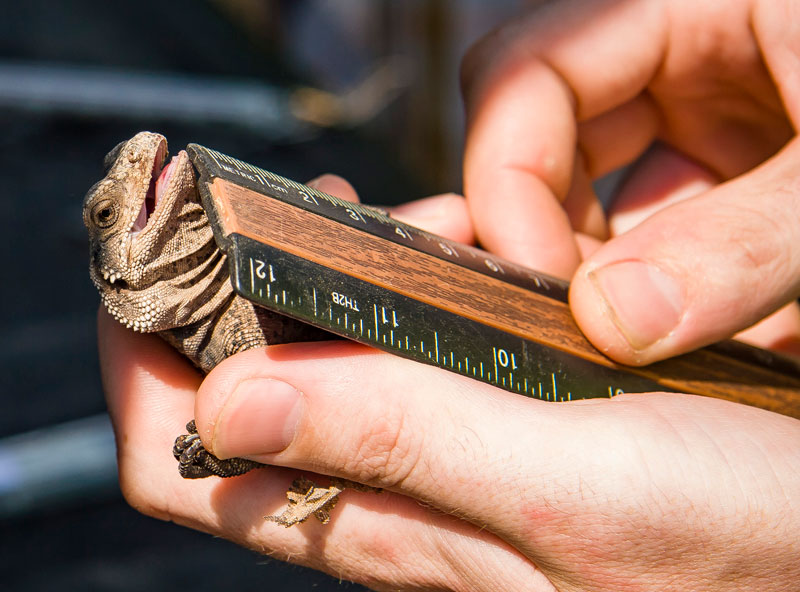 Project biologists are also tracking movements of desert tortoises in the segment where the freeway will pass through the preserve, and working with wildlife rehabilitators as needed to relocate burrowing owls and other wildlife that may be disturbed by construction.
The completed freeway also will have several multiuse crossings in the center segment, identified in consultation with the Arizona Game and Fish Department, to allow wildlife to pass along with hikers and those riding on horseback.
The 22-mile freeway, expected to open by late 2019, will provide a long-planned direct link between the East Valley and West Valley, and a much-needed alternative to Interstate 10 through downtown Phoenix.
For more information, visit South MountainFreeway.com.