At ports of entry and elsewhere, ADOT helps combat human trafficking
At ports of entry and elsewhere, ADOT helps combat human trafficking
PHOENIX – At Arizona Department of Transportation commercial ports of entry near California and New Mexico,  K-9 units are trained to identify not only evidence of illegal drugs but human cargo that can include victims of human trafficking. Lieutenants overseeing these ports have training on identifying warning signs of human trafficking, such as unusual tattoos, an unwillingness to speak up and carrying large amounts of cash without explanation.
Meanwhile, dozens of vehicles driven by officers with ADOT's Enforcement and Compliance Division have bumper stickers aimed at directing those who need help or who see signs of trouble to EndSexTrafficking.AZ.gov or 888.373.7888, resources offered through the Governor's Office of Youth, Faith and Family.
With human trafficking an increasingly urgent issue, ADOT officers enforcing commercial vehicle laws have joined other law enforcement agencies and the Arizona Human Trafficking Council created by Governor Doug Ducey to help make Arizona a leader in combating this crime.
"Human trafficking is not just something you hear about on TV or read on the Internet; it's happening right here in our state," ADOT Director John Halikowski said. "That's why it's critical for ADOT to be part of this comprehensive effort to combat it."
As a member of the Arizona Human Trafficking Council, Chief Gary McCarthy with ADOT's Office of Inspector General, part of the Enforcement and Compliance Division, chairs the outreach and awareness committee that not only raises public awareness but trains people on how to spot human trafficking and what to do about it.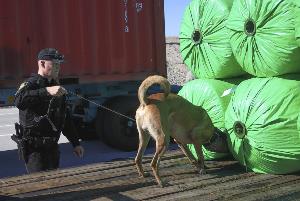 In addition to the training provided to lieutenants overseeing commercial ports of entry, starting in 2019 advanced training for ADOT officers will include a human-trafficking component, including where the demand comes from and what cases look like. And the Enforcement and Compliance Division plans to develop online training so other ADOT employees who work along highways will learn how to spot the signs of human trafficking.
Since December, ADOT has had its first two K-9 units trained to detect human smuggling in addition to illegal drugs. The K-9s are used at the ports of entry along the eastern and western sides of Arizona to check any commercial vehicles that raise suspicions.
"We're taking a few approaches to do our part to end this heinous practice here in Arizona," McCarthy said. "From training more officers to use of our K-9 units to raising awareness through bumper stickers on our vehicles, ADOT is serious about stopping human trafficking and saving lives."
If you would like to learn more about how to help stop human trafficking, please visit EndSexTrafficking.az.gov. To report anything suspicious, please call 888.373.7888.