Projects on US 60, Interstate 15 highlight 2016 in Greater Arizona
Projects on US 60, Interstate 15 highlight 2016 in Greater Arizona
PHOENIX – Drivers have a wider, safer US 60 climbing west from Superior, a new bridge that will eliminate flooding closures on US 95 near Yuma and a rehabilitated Virgin River Bridge No. 6 on Interstate 15 thanks to just some of the Arizona Department of Transportation projects completed this year in Greater Arizona.
More is on the way in 2017, including widening the last section of State Route 260 between Interstate 17 and Cottonwood, and starting work on a bridge carrying State Route 347 over railroad tracks in Maricopa.
After months of regularly scheduled blasting closures, those using US 60 between Superior and Globe now have an westbound passing lane on the grade between Oak Flat and Devil's Canyon (mileposts 230 to 232). Other improvements along this stretch include a wider shoulder at Devil's Canyon and bridge improvements at Waterfall Canyon near milepost 229. The projects also removed overhanging rocks that have posed the danger of rock falling during heavy rain.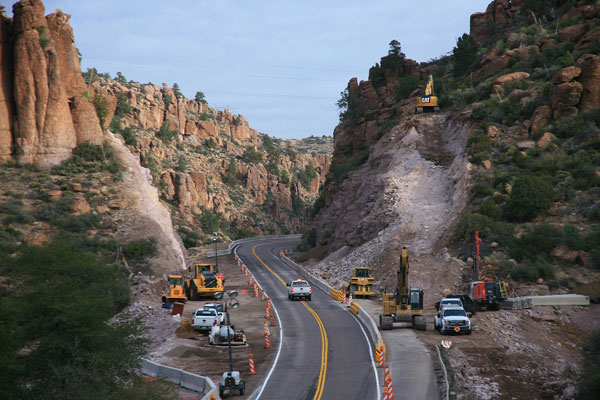 This work was part of $65 million in US 60 improvements that also include ongoing work to convert the last remaining two-lane roadway segment between Phoenix and Superior into four-lane divided highway (mileposts 222-227 just west of Superior) and a project that installed LED lighting in the Queen Creek Tunnel at milepost 228.
Along I-15 in far northwestern Arizona, ADOT completed a $27 million rehabilitation of Virgin River Bridge No. 6 that replaced girders, decks and railings and widened the roadway at the bridge. This was the centerpiece of $50 million in upgrades that also included paving all 29 miles of I-15 in Arizona and repairing the decks of three other bridges in the Virgin River Gorge corridor.
Until late 2016, flash floods could cause closures of US 95 at Fortuna Wash near Yuma – no small problem considering that the wash lies between the city and Yuma County's largest employer, Yuma Proving Ground. Today, motorists using this key trade route between the U.S. and Mexico cross Fortuna Wash on a $9.3 million, 600-foot bridge. Final work on the bridge and this stretch of US 95 will continue until spring.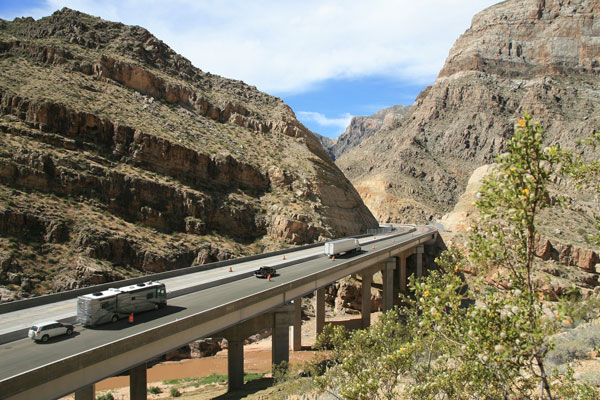 Among other highlights in Greater Arizona, ADOT completed a major project to improve mobility and safety along US 89 through the Navajo Nation community of Cameron north of Flagstaff. The $36.7 million project replaced two bridges over the Little Colorado River, widened four miles of highway, added a roundabout at the junction with State Route 64, and installed sidewalks and underpasses.
On State Route 89 between Chino Valley and Interstate 40, ADOT completed a new $14.4 million bridge at Hell Canyon featuring 12-foot lanes and 10-foot shoulders to better accommodate oversize loads and commercial vehicles. Replacing a now-dismantled bridge built in 1954 that no longer met state and federal design standards for larger and heavier vehicles, the new structure is 665 feet long and has four spans to carry the load.
In spring 2017, work is to begin on a project widening nine miles of SR 260 (mileposts 209-218) to modern four-lane divided highway from Interstate 17 west to Thousand Trails Road. This $62 million project also will install seven roundabouts at major cross streets.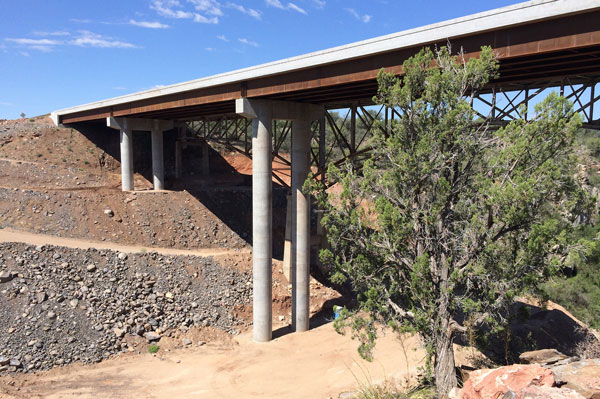 Late in 2017, ADOT plans to begin work on a $55 million project in Maricopa that will realign SR 347 between Desert Cedars Drive and Hathaway Avenue and create a bridge carrying the highway over Union Pacific railroad tracks where dozens of trains pass each day. A $15 million Transportation Investment Generating Economic Recovery (TIGER) grant and a $15 million local contribution have helped ADOT move forward sooner on this project than originally planned. 
For information about other current and planned projects in Greater Arizona, visit azdot.gov/projects.