South Mountain Freeway bridge walls taking shape at future interchange
South Mountain Freeway bridge walls taking shape at future interchange
PHOENIX – At the Loop 202 South Mountain Freeway's future interchange at 17th Avenue, patterned walls being assembled in Lego-like fashion offer a glimpse of a construction technique that's essential to completing the project by late 2019.
These mechanically stabilized earth walls, commonly referred to as MSE walls, are concrete panels as large as 5-by-10 feet that fit into place. They are part of a system, used on Arizona Department of Transportation projects since the 1970s, using the walls and steel reinforcing straps to construct the retaining walls under bridges.
Altogether, approximately 600,000 square feet of MSE walls will be installed for the project, more surface area than the retractable roof at University of Phoenix Stadium.
"MSE walls are an essential element of highway design, as they can be constructed efficiently in confined spaces with minimal use of heavy equipment," said Julie Gadsby, an ADOT assistant district engineer on the South Mountain Freeway team.
The concrete panels are manufactured off-site and delivered to construction areas, where they are carefully assembled much like a jigsaw puzzle. The panels have various shapes and sizes and will also feature the aesthetic patterns selected for sections of the freeway. The walls going up at 17th Avenue feature desert plants and simple shapes based on the forms of native cholla and ocotillo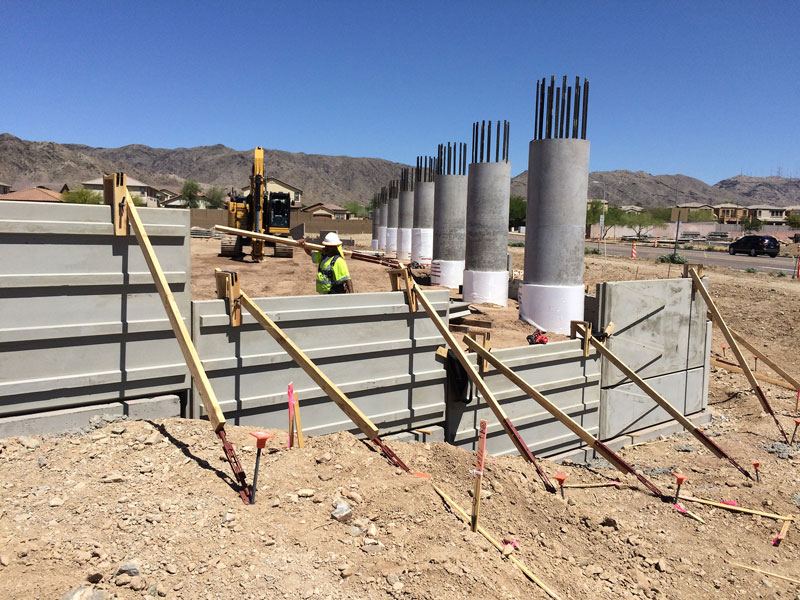 cactuses in the Ahwatukee Foothills area.
As each wall goes up, steel straps are connected to each panel and planted in the earth behind the wall, securing both the soil and the panel.
ADOT and Connect 202 Partners, the developer responsible for building the South Mountain Freeway, expect to complete MSE walls at the 17th Avenue interchange this month. MSE wall construction is scheduled to start soon at the 24th and 40th street bridges. The walls will be painted during the final stages of the project.
The South Mountain Freeway will provide a long-planned direct link between the East Valley and West Valley and a much-needed alternative to Interstate 10 through downtown Phoenix. Approved by Maricopa County voters in 1985 and again in 2004 as part of a comprehensive regional transportation plan, the South Mountain Freeway will complete the Loop 202 and Loop 101 freeway system in the Valley.
For more information, visit SouthMountainFreeway.com.