South Mountain Freeway interchange in Phoenix requires work 'over, on and below I-10'
South Mountain Freeway interchange in Phoenix requires work 'over, on and below I-10'
PHOENIX – Big changes are in store for the Interstate 10 traffic interchange at 59th Avenue in west Phoenix. Built in 1984, it's being reconstructed to eventually link to the Loop 202 South Mountain Freeway when it opens to traffic in late 2019.
Motorists who regularly travel I-10 between the West Valley and downtown Phoenix have already noticed an ever-changing landscape.
Large cranes are parked in the median, tower-like structures rise at the site to carry bridges above I-10, heavy construction equipment is moving massive amounts of earth along I-10 and traffic lanes are temporarily shifted.
All of this is needed to build a new freeway-to-freeway interchange, also known as a system interchange, so motorists will be able to seamlessly connect from I-10 in the West Valley to a 22-mile-long South Mountain Freeway offering direct access to the East Valley.
The interchange will include five non-stop flyover ramps, new roadways parallel to I-10 between 51st and 67th avenues that will replace direct freeway access to 59th Avenue and improve traffic flow, and new auxiliary lanes that will feed traffic to the new freeway-to-freeway interchange. There will also be extensive resurfacing of I-10, new drainage structures, and new retaining and barrier walls.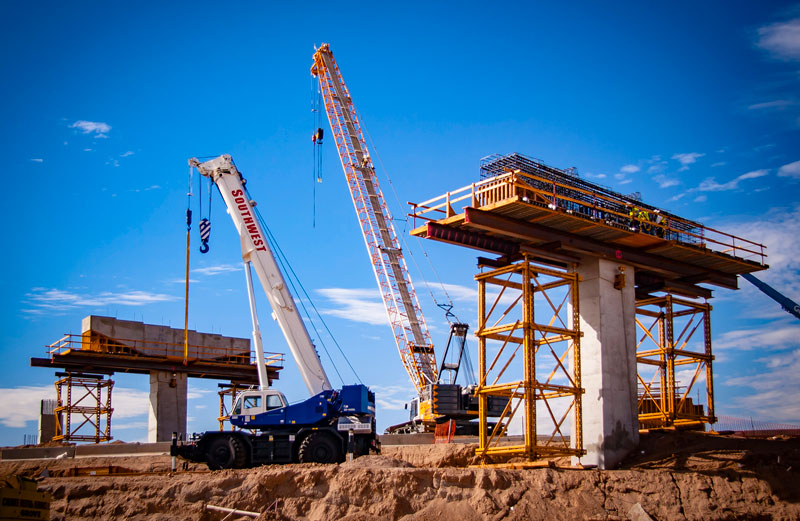 This work isn't easy, as this stretch of I-10 is the most heavily traveled in the state, used daily by more than 200,000 vehicles.
"The challenge in building a freeway-to-freeway or system interchange is we are building freeway construction over, on and below I-10," said Kole Dea, the Arizona Department of Transportation senior resident engineer overseeing the I-10 Papago segment of the South Mountain Freeway. "That includes bridge work above, pavement work on and drainage work below."
For Connect 202 Partners – the developer responsible for building the South Mountain Freeway – to complete this work safely, frequent lane restrictions and closures of I-10 are needed. But these are reserved for overnights and weekends, when traffic volumes are much lower. Over the last couple of months, for example, several weekend closures were required to build a large concrete structure over I-10 called a straddle bent, which will straddle existing travel lanes to support flyover ramps.
"There is never a good time to close a freeway, particularly one as busy as I-10, but it's absolutely necessary to ensure the safety of the traveling public and construction workers building the new South Mountain Freeway interchange," Dea added.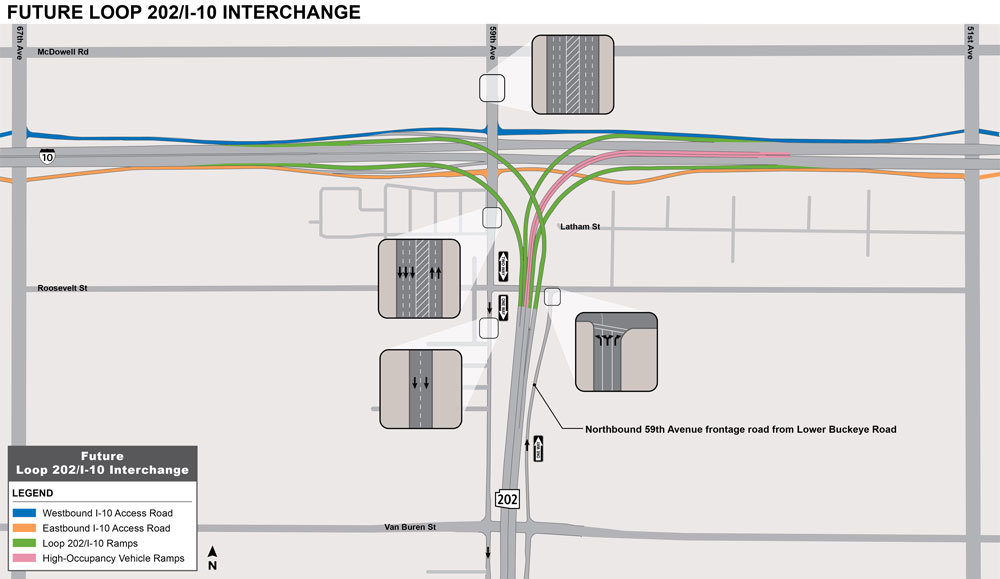 During construction, motorists should slow down, obey the speed limit and consider alternatives such as carpooling and transit.
The South Mountain Freeway will provide a long-planned direct link between the East Valley and West Valley and a much-needed alternative to I-10 through downtown Phoenix. Approved by Maricopa County voters in 1985 and again in 2004 as part of a comprehensive regional transportation plan, the South Mountain Freeway will complete the Loop 202 and Loop 101 freeway system in the Valley.
For more information on the South Mountain Freeway, visit SouthMountainFreeway.com.