South Mountain Freeway sound wall construction underway
South Mountain Freeway sound wall construction underway
PHOENIX – When the Loop 202 South Mountain Freeway opens to traffic in late 2019, sound walls lining one or both sides along 11 of its 22 miles will reduce noise near neighborhoods and incorporate designs specific to various segments.
As the corridor looks more and more like the freeway it will become, crews have started building sound walls between 40th and 48th streets in Ahwatukee and near the Interstate 10 interchange at 59th Avenue in west Phoenix.
Sound walls, the most common type of noise-reducing barrier used along Phoenix-area freeways, are designed to limit the intensity of freeway traffic noise that travels into nearby areas.  Extensive studies helped determine where sound walls are needed for the South Mountain Freeway.
"Sounds walls can significantly reduce freeway noise by blocking the path that sound waves travel from the traffic toward a residential area," said Rob Samour, ADOT's senior deputy state engineer for major projects. "Combined with our use of rubberized asphalt pavement, we'll be able to limit traffic noise throughout the entire corridor, similar to other Valley freeways."
The South Mountain Freeway sound walls will mostly range between 16 and 20 feet in height. In all, the freeway's sound walls will include more than 1 million masonry blocks.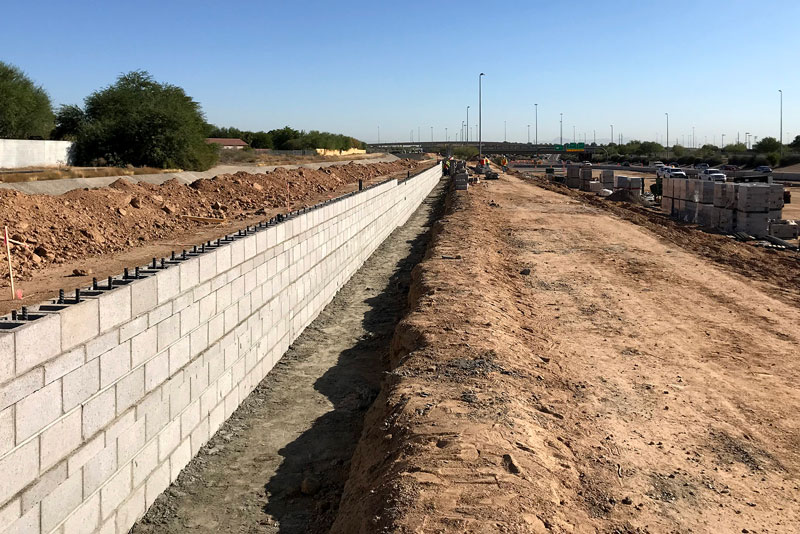 Construction involves installing concrete footings for foundations, along with placing reinforced steel within the footings to support masonry blocks that are stacked layer upon layer. Later, the walls will be painted and aesthetic panels will be added to complete the look.
Along with retaining walls and other features, sound walls will help create the freeway's distinctive aesthetic character areas complementing its surroundings, helping tell an area's story and creating a more appealing environment for drivers. One pattern will evoke the Laveen area's agricultural heritage, while others will feature desert plants and simple shapes based on native cholla and ocotillo cactuses.
In contrast to vertical lines on walls along other Valley freeways, the South Mountain Freeway's sound and retaining walls will display horizontal lines. These were designed in collaboration with the Frank Lloyd Wright Foundation to honor the legendary architect's connection with the South Mountain foothills, where he worked on the design for a resort that wasn't built following the 1929 stock market crash.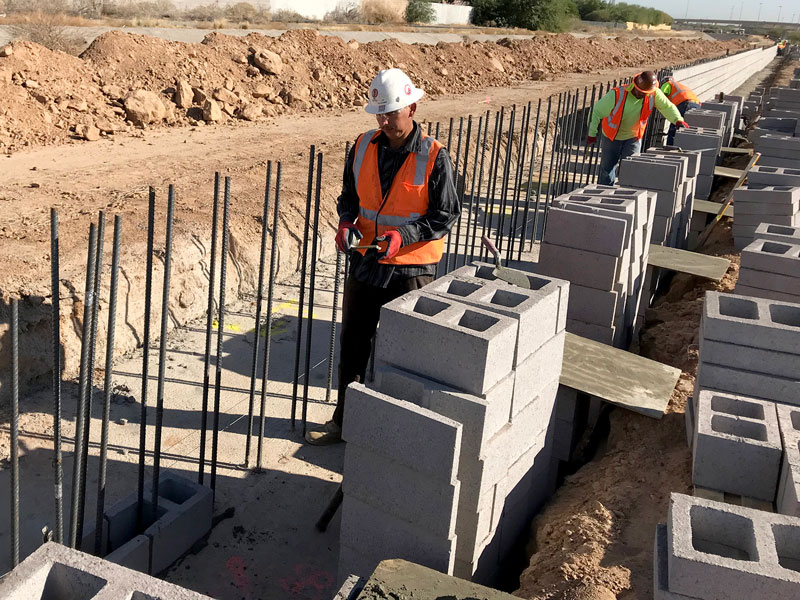 The South Mountain Freeway, which is slated to open late 2019, will provide a long-planned direct link between the East Valley and West Valley and a much-needed alternative to I-10 through downtown Phoenix. Approved by Maricopa County voters in 1985 and again in 2004 as part of a comprehensive regional transportation plan, the South Mountain Freeway will complete the Loop 202 and Loop 101 freeway system in the Valley.
For more information on the South Mountain Freeway, visit SouthMountainFreeway.com.