Step by step, ADOT facial recognition process guards against identity fraud
Step by step, ADOT facial recognition process guards against identity fraud
PHOENIX – Since the Arizona Department of Transportation began using facial recognition technology and training in 2015 to protect Arizonans from identity theft, detectives have brought more than 100 cases to court.
It's a process that begins when a person applies for or renews a driver license or ID card at a Motor Vehicle Division office or Authorized Third Party business, and it is a seamless part of the customer's visit.
After the customer's picture is taken, the photo goes through a check against all others in the state driver license database while the customer finishes the application process.
All of the analysis takes place inside a computer, and if the system finds the applicant's photo likely matches another photo under a different name, it flags the photos, putting a temporary stop on printing the permanent card. The photos are then sent to FBI-trained staff members at ADOT's Office of Inspector General where they undergo three levels of review to verify that the photos are of the same person.
"This high-tech tool has really enhanced our ability to catch identity thieves," said Michael Lockhart, chief of the Office of Inspector General. "When we couple this technology with other security measures like central credential issuance, it allows us to stop these criminals and keep Arizona IDs out of their hands."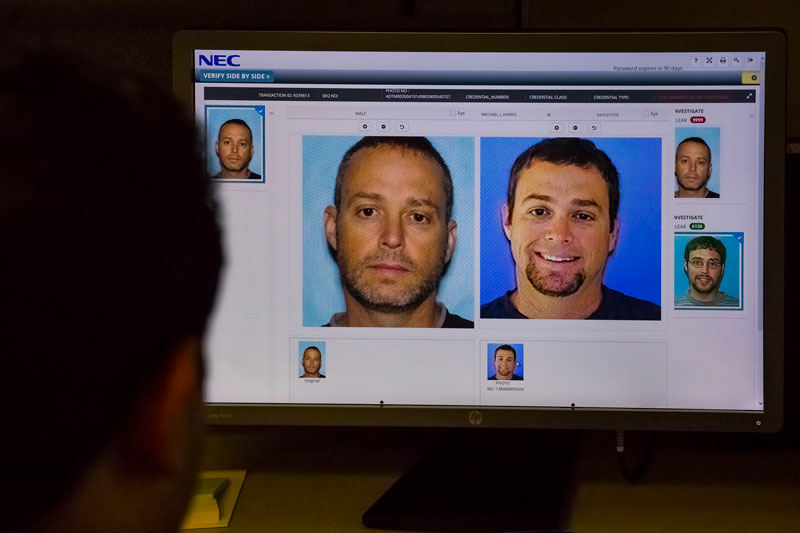 The detectives and staff members are trained to look for similarities in facial features and even account for identical twins. If photos are confirmed to be the same person on multiple profiles, ADOT detectives will open an investigation.
If detectives determine that a person is committing fraud, the license or ID card is never printed. The temporary credentials customers receive at MVD offices and Authorized Third Party businesses expire after 30 days.
ADOT's Office of Inspector General investigates fraud involving driver license and identification card applications; vehicle sales by licensed and unlicensed dealers; and vehicle titles and registration. It also assists state, local and federal law enforcement agencies with investigations.
For more information about applying for an Arizona driver license or ID card, please visit: azdot.gov/driverlicenseinfo.