Straddle bent key to South Mountain Freeway interchange in Phoenix
Straddle bent key to South Mountain Freeway interchange in Phoenix
PHOENIX – Creating the Loop 202 South Mountain Freeway's interchange with Interstate 10 in west Phoenix is no small feat of engineering, starting with the need to have supports for flyover ramps to straddle existing lanes of traffic.
As is the case at other freeway-to-freeway interchanges around the Valley, this is being done with a structure known as a straddle bent. It is an alternative when a typical one-column pier carrying a ramp would need to be in the middle of an existing roadway. Instead, the straddle bent has multiple columns supporting a wide top, or cap, that in turn supports a ramp.
In construction, "bent" refers to a structure providing lateral as well as vertical support. The first South Mountain Freeway straddle bent, over the westbound lanes of I-10 near 59th Avenue, has two columns supporting a 140-foot-wide, 12-foot-high cap. On its own, it looks a bit like a giant concrete soccer goal.
Straddle bents are part of the freeway connections Valley motorists use every day. The flyover ramp from eastbound I-10 to northbound State Route 51 (Piestewa Freeway) in central Phoenix has a bent straddling the westbound lanes of I-10, while HOV ramp connections between those two freeways use three straddle bents over westbound I-10.
In all, seven straddle bents will be part of the South Mountain Freeway connection with the I-10 Papago Freeway, with the first going up after a series of weekend and overnight closures to allow large cranes to work.
This past weekend, Connect 202 Partners, the South Mountain Freeway developer, poured more than 400 cubic yards of concrete to complete the bent just east of the current I-10/59th Avenue interchange. The falsework that held the structure in place prior to the concrete pour will be removed in the near future.
In order to safely construct the seven straddle bents for the new I-10/Loop 202 system interchange at 59th Avenue, intermittent lane restrictions and closures of I-10 are needed regularly. Fortunately, ADOT minimizes the inconvenience to the traveling public by scheduling as much work as possible during non-peak hours, but because some of the work is occurring directly above the existing I-10, full closures are often necessary for the safety of motorists and construction crews.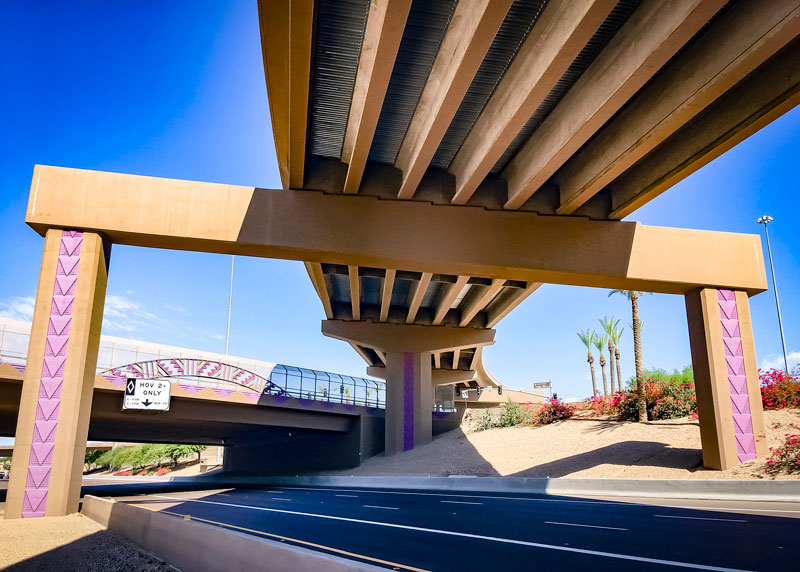 Once the straddle bent structures are built, girders will be placed to create future ramps that will provide connections to and from the South Mountain Freeway.
The 22-mile South Mountain Freeway, expected to open by late 2019, will provide a long-planned direct link between the East Valley and West Valley and a much-needed alternative to I-10 through downtown Phoenix. Approved by Maricopa County voters in 1985 and again in 2004 as part of a comprehensive regional transportation plan, the South Mountain Freeway will complete the Loop 202 and Loop 101 freeway system in the Valley.