Traffic Operations Center dedicated to getting Arizonans safely home
Traffic Operations Center dedicated to getting Arizonans safely home
PHOENIX – "Camera 712."
With that announcement, Arizona Department of Public Safety Trooper Robb Brown alerts others at the Arizona Department of Transportation's Traffic Operations Center to a ladder reported on the Loop 202 Red Mountain Freeway near Dobson. Operating the camera by remote control, Brown quickly finds the ladder in the eastbound right lane, then calls that out too.
"Do you have signs?" Neil Barker asks fellow ADOT traffic dispatcher Kate Buckmaster.
"Getting them now," Buckmaster replies. 
A few clicks of a keyboard and mouse, and digital message boards activate along eastbound Loop 202, warning drivers of debris in the right lanes. 
It's around 4 p.m., one of the busier times of day at the Traffic Operations Center, located near the Interstate 17 Durango Curve in Phoenix. But the control room dynamics would be the same at any hour: ADOT and AZDPS working together to alert motorists to potential dangers, mobilize ADOT personnel and state troopers, and make sure the public knows what's up via the Arizona Traveler Information site (az511.gov), the 511 phone system and social media.
Amid the current public health situation, that 24/7 presence at the Traffic Operations Center is helping keep the public safe, mobile and informed.
"We're the nucleus for transportation information, both receiving and transmitting that information," said Derek Arnson, who oversees the Traffic Operations Center as ADOT's Traffic Management Group manager. "With our cameras and message boards, the TOC is important to the success of the state economically and to getting people where they need to go."
Based on the many TV news live shots set here, you're likely familiar with the Traffic Operations Center's wall of monitors that can display up to 40 camera views at one time. Usually, one feed goes across four monitors, creating a display with 10 views from ADOT cameras along freeways in the Phoenix and Tucson areas. 
But the real action in the control room lies with Brown, Barker, Buckmaster and others dedicated to getting Arizonans safely home.
On this afternoon, one of Buckmaster's duties is overseeing the overhead message boards and making sure incidents are entered into a reporting system that logs them and populates 511.
Barker is working with ADOT's Incident Response Unit sponsored by State Farm, which has staff patrolling Valley freeways to clear minor crashes, remove debris and set up traffic control to help keep traffic moving and reduce the chances of secondary crashes.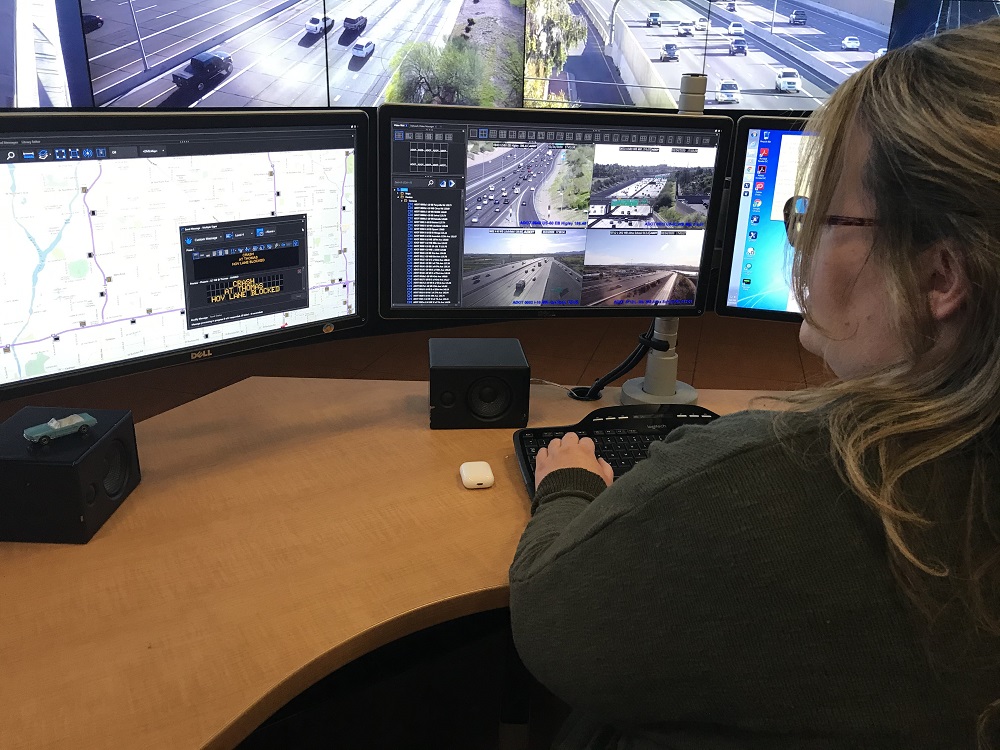 In the case of that ladder on Loop 202, Barker radios to tell an Incident Response Unit member – they go by the call sign "6-Tom" – that a citizen stopped and dragged the ladder off the freeway.
ADOT dispatchers at the Traffic Operations Center usually divide the state into rural and metro calls, with one person supervising each. If traffic is heavy, those on shift jump in to help wherever needed to light up overhead message boards, dispatch units or log incidents.
Problems like crashes and debris are fairly common. But during this afternoon rush hour, ADOT dispatchers also send a unit to make sure an on-ramp crash didn't damage a ramp meter and look out for a pedestrian reported walking along a freeway.
Since 2015, an AZDPS trooper has been stationed at the Traffic Operations Center around the clock to help locate crashes and help coordinate that agency's response to incidents. In addition, there's always an ADOT public information officer on duty to get the latest out via the agency's social media channels, primarily Twitter (@ArizonaDOT), and respond to traffic-related questions from the public and news media.  
Nearly an hour after the ladder was called in, Brown happens to notice traffic slowing on a camera. He pulls up another camera close by and finds the HOV lane on northbound Interstate 17 blocked due to a multi-vehicle crash.The view from camera 411 goes up on the front wall.
"I'll put signs up," Buckmaster says.
Barker leans over to a radio microphone: "6-Tom units copy traffic," and an Incident Response Unit member responds.
It's not uncommon during the evening commute for the wall to be full of crashes the dispatchers are constantly monitoring.
The I-17 crash doesn't block traffic for long. As the camera shows the vehicles moving out of the travel lanes, there's another round of announcements.
Buckmaster says overhead signs are coming down. Brown verifies that troopers have taken the involved parties to a city street. Barker clears Incident Response Unit.
And then it's back to monitoring until the next incident occurs.