Turning the corner on Pima County projects in 2018
Turning the corner on Pima County projects in 2018
TUCSON ‒ Removing the bridge that once carried westbound Interstate 10 traffic over Ina Road was the first step in what will be a busy 2018 in the Tucson area for the Arizona Department of Transportation.
Tucson will see the completion of the first phase of renovations at Ajo Way and Interstate 19, the near completion of a new interchange at I-10 and Ina Road and a project to ease congestion at I-10 interchanges serving fast-growing areas east of downtown Tucson.
At Ajo Way (State Route 86), ADOT has created a single-point urban interchange, the third in the Tucson area with a single set of traffic signals controlling all traffic movements. After the first phase of the project is complete this spring, ADOT will prepare for the 18-month second phase of work, which will widen Ajo Way and I-19, create a new Ajo Way bridge over the Santa Cruz River and construct a new Michigan Avenue pedestrian bridge over I-19.
The first phase of the Ajo Way project cost about $40 million, and the second phase is estimated to cost $27 million.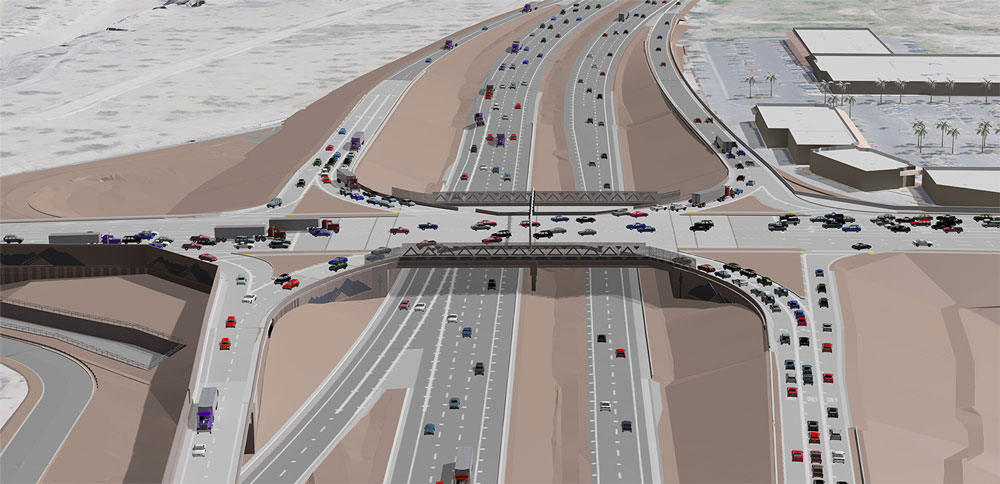 On the last weekend in January, westbound I-10 traffic at Ina Road in Marana will begin sharing the new pavement that now carries eastbound traffic, with a concrete barrier separating the directions of travel. The move will allow construction crews to build the eastern half of the Ina Road bridge and complete the remaining work to widen both I-10 and Ina Road. The project, which also includes a second new bridge carrying Ina Road over the Santa Cruz River, is on schedule for completion in early 2019.
ADOT is overseeing the $128 million Ina Road project, which is funded by the Federal Highway Administration, the Pima Association of Governments and the Regional Transportation Authority. The town of Marana is contributing $7.9 million toward the cost of the new bridges over the Santa Cruz River west of I-10.
East of downtown Tucson, ADOT will continue making improvements to several interchanges to improve traffic flow. In 2017, ADOT added a traffic signal and a right turn bay at the end of the Houghton Road eastbound exit ramp. Beginning this spring, crews will start adding traffic signals at the eastbound 10 exits for Wilmot, Rita and Kolb roads, with the work scheduled for completion before the end of the year. At Rita Road, crews will add a right turn lane on the eastbound exit and a second merging lane for the westbound on-ramp.