Three new specialty plates available at ServiceArizona.com
Proceeds go to charitable causes
January 12, 2018
PHOENIX – The sound of freedom over the West Valley, classic cars and the wonders of science and technology are celebrated in the newest batch of Arizona Department of Transportation Motor Vehicle Division specialty license plates.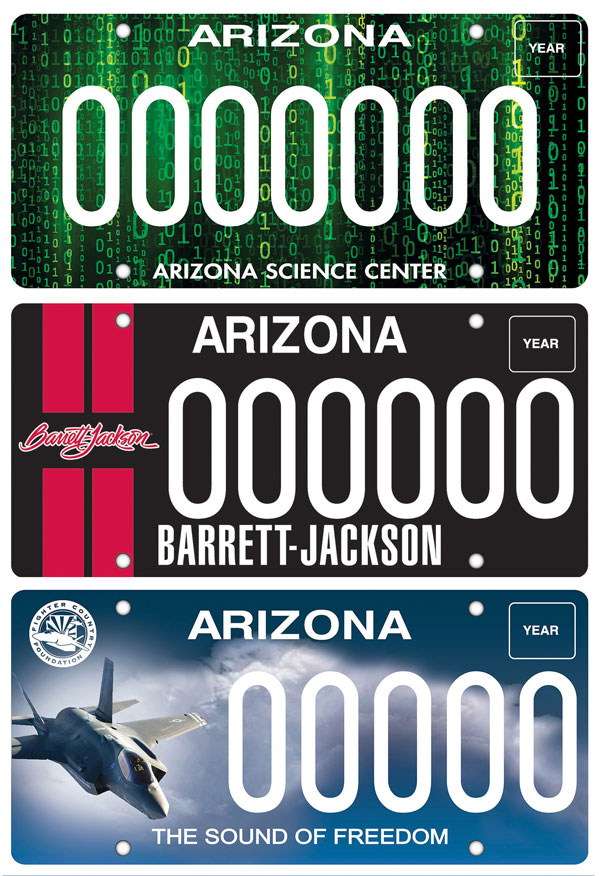 Plates commemorating Luke Air Force Base, the Arizona Science Center and the Barrett-Jackson Auto Auction are now available at ServiceArizona.com.
Specialty plates typically cost $25 annually. Of that, $17 is committed to the organization being supported. In the most recent fiscal year, sales of the plates generated nearly $10 million for charitable causes statewide.
Proceeds from the Luke Air Force Base plate will support Fighter Country Foundation programs and services geared towards morale and well-being, culture, tradition and mission sustainability at the base.
Foundation spokesman Ron Sites said, "We are incredibly excited to launch our new specialty plate. These programs support all military members at Luke Air Force Base, to include Air Force Reserve, Navy, Marines and Army Corps of Engineers. We have always used the phrase 'The Sound of Freedom' when educating residents what Luke AFB is, and to now actually have that phrase as well as an F-35 on an Arizona license plate is amazing."
The Science Center plate will help fund science education programs.
"The Arizona Science Center specialty license plate is truly a win because it is furthering science learning in Arizona," said Chevy Humphrey, Hazel A. Hare president and CEO of Arizona Science Center. "The drivers who purchase this plate will get to proudly display their love of science while paying it forward. They will create a fund that directly supports programs and field trips for low-income students."
Funds collected from the Barrett-Jackson plate will be used by Barrett-Jackson Charities to benefit the Driven Hearts initiative for the American Heart Association.
"Barrett-Jackson has long been known for its charitable contributions and corporate culture," said Barrett-Jackson President Steve Davis. "It's something that separates Barrett-Jackson from everyone else in the industry. We've created an incredible platform to do really great things for very good causes like the American Heart Association, which can help so many people who are close to us. There's nothing more fulfilling than that."
In addition to these new releases, two current specialty plates, Route 66 and First Responder, are being made available to motorcycle owners for the first time.
Specialty plates were established by state law in 1989. Legislative approval is required to create a plate.