MVD Hours and Locations
Due to high volume, response times may be slower than usual. We apologize for the inconvenience.
MVD Expands At-Home Services and Restricts Office Visits
Unless you are new to Arizona, new to driving or registering a vehicle for the first time, you can probably take care of MVD business at home.
CDL Services: Please call for assistance. 602.712.2700.
To access MVD services from home:
Step 1:
Activate your AZ MVD Now account and do the service online.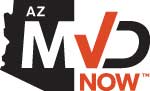 And ...
Step 2:
If you can't do the service online, MVD customer service agents will assist you.
Call 602.712.2700
Phone Center hours are:
8:00 a.m.- 4:30 p.m.
Monday - Friday
Note: Due to the ongoing health situation, MVD offices are not accepting walk-in customers. You must have an appointment.
Authorized Third Party Options
Authorized Third Party services may be available.
Thank you for your understanding and patience.