MVD Hours and Locations
MVD Is Expanding Alternative Service Options And Limiting Office Visits
As a precaution, due to the ongoing health situation, MVD is restricting in-person services at offices statewide.
Make Online Your First Choice
Most MVD services can be done online at ServiceArizona.com and no office visit is necessary.

AZ MVD Now For Faster Service
Before contacting us: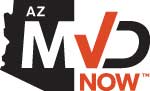 For Motor Vehicle Services
If you are unable to complete your service online, please call us at 602.712.2700.
For General Information
For general questions and customer information, contact us at 602.255.0072.
Phone Center hours are from 7:30 a.m.-4:30 p.m., Monday-Friday.
Authorized Third Party Options
Authorized Third Party services may be available.
Thank you for your understanding and patience.