Native plants being relocated from South Mountain Freeway path
Saguaros, palo verde trees, other plants will be used for freeway landscaping
October 31, 2016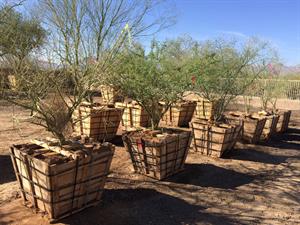 PHOENIX – When the Loop 202 South Mountain Freeway opens, many of the trees, cactuses and other plants that will blend into the surrounding landscape will be transplants from the freeway's path.
Crews have started removing native vegetation, including saguaros and palo verde trees, in the 22-mile corridor so it can be cared for during construction and eventually replanted alongside the freeway.
For more than 30 years, restoring native plants has been an integral part of many Arizona Department of Transportation projects, including the recent expansion of the Loop 303 in the West Valley and the Loop 101 Pima Freeway widening in Scottsdale.
Doing so is good for the environment and makes roadsides more appealing, said ADOT Chief Landscape Architect LeRoy Brady, who worked on ADOT's first plant salvage effort in the mid-1980s along State Route 87.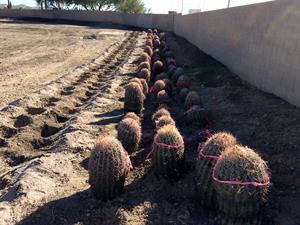 "ADOT takes great pride in maintaining the highway scenery by preserving some of these long-standing plants that are part of Arizona's history," Brady said. "ADOT dedicates funding for this work, and it helps promote sustainable practices and contributes to the long-term viability of the desert ecosystem. An added benefit is the local communities really seem to support this work."
In September, landscapers took an inventory of more than 1,000 trees, cactuses and native plants along the Pecos Road alignment that are candidates for plant salvage. Other types of plants that will be salvaged include ironwood and mesquite trees, and ocotillo and barrel cactuses.
Last week, crews began transplanting some of these trees and cactuses, which can weigh up to 2,000 pounds, with the aid of heavy equipment. These will be moved over the next two weeks to a nursery in ADOT's right of way, as has been done on other Valley freeway projects.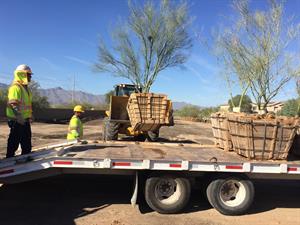 The nursery, which includes an irrigation system, will serve as the plants' temporary home until they are transplanted upon completion of a freeway segment.
Landscapers decided which plants to salvage based on factors including the species, size, health and aesthetic qualities. Plants that aren't likely to survive the relocation will be permanently removed.
The 22-mile freeway, expected to open by late 2019, will provide a long-planned direct link between the East Valley and West Valley, and a much-needed alternative to Interstate 10 through downtown Phoenix.
For more information, visit SouthMountainFreeway.com.