Interstate 15 bridge at Virgin River Gorge renovations complete
Canyon environment added challenges to two-year project
July 8, 2016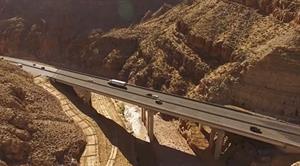 PHOENIX – When crews completed Interstate 15 through the rugged Virgin River Gorge in 1973, the 29-mile stretch in northwest Arizona was one of the most challenging projects to date in the U.S. interstate system.
Among other projects along this stretch in the past two years, the Arizona Department of Transportation's $27 million rehabilitation of Virgin River Bridge No. 6 has been challenging as well, not just for those doing the work but for motorists facing lane restrictions.
That project – and the lane restrictions – ended this week with crews completing the bridge work, the centerpiece of $50 million in upgrades that also included paving the entire interstate through Arizona and repairing the decks of three other bridges.
Crews faced uncommon challenges as they replaced girders, decks and railings as well as widening the roadway at Bridge No. 6, said Adam Carreon, ADOT's resident engineer on the project.
The first was the same as during the original construction: geography. The bridge stands 100 feet above the river in a narrow canyon. Not only did that demand an unending focus on safety for workers, it required specialized equipment to work in tight spaces.
"I-15 in the Virgin River Gorge is an extremely curvy section of freeway," Carreon said. "Access was extremely limited. We had to build a steep road to bring equipment, materials and workers to the work site."
Protecting the environment also required careful management, including shielding to prevent any debris from falling into the Virgin River. Crews worked closely with the Bureau of Land Management, Arizona Game and Fish Department, the Arizona State Land Department's Natural Resources Division and the Environmental Protection Agency, among other agencies.
"Every precaution was taken to make sure we were sensitive to the environment," Carreon said.
And it was a big job, involving 4,000 cubic yards of structural concrete, 3 million pounds of structural steel, 910,000 pounds of reinforcing steel, 4,000 tons of earth moved and 3,600 tons of asphalt.
The stretch of I-15 connecting Utah and Nevada is a vital economic corridor, with 1.4 million trucks using the roadway each year. Its remote location offers few alternate routes.
ADOT's commitment to Arizona's stretch of I-15 will continue beyond its latest project. The agency's five-year construction program commits $33 million in fiscal 2019 to renovating Virgin River Bridge No. 1 near Littlefield.