Reopening Texas Canyon Rest Area continues facility upgrades statewide
Marks halfway point in renovation of ADOT's rest areas
June 30, 2016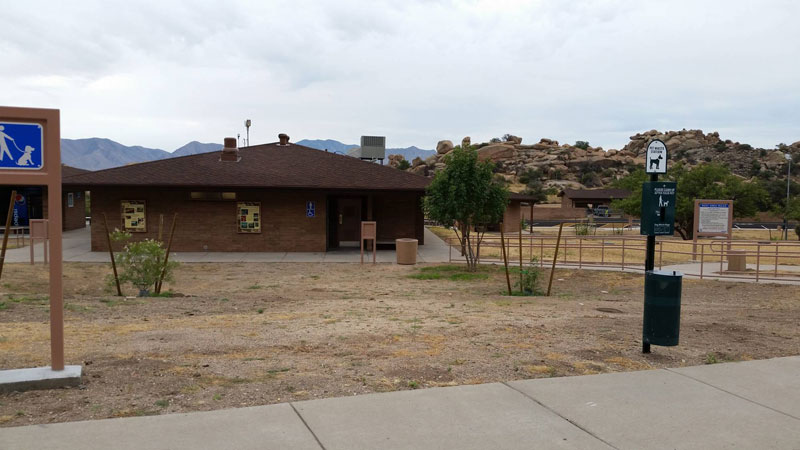 PHOENIX ‒ With the Texas Canyon Rest Area along Interstate 10 reopening Thursday after a six-month renovation, the Arizona Department of Transportation is moving past the halfway point in a decade-long effort to improve rest areas statewide.
Texas Canyon, between Benson and Willcox in southeastern Arizona, will be the ninth of ADOT's 17 rest areas to be improved since 2013. The San Simon Rest Area near the New Mexico line on I-10 reopened in May.
Two more rest areas will open later this year: Mohawk at milepost 56 on I-8, closed since 2009, and Haviland on I-40, just east of the State Route 95 interchange, which will see work through December.
Many of the improvements are designed to repair or replace aging infrastructure that in some cases has been in place for as long as 50 years. The largest effort: making significant improvements to water and wastewater systems, including drilling through hundreds of feet through rock to find new sources of water. Pipes and septic systems that have reached their life expectancies are being replaced.
ADOT also is working to make certain that all rest areas comply with the Americans with Disabilities Act so every traveler can take advantage of the facilities. Other work includes new pavement, new fixtures in restrooms and repairs to buildings. The cost of the work varies but averages about $3 million per rest area.
The renovations are designed to make Arizona's rest areas more functional and pleasant.
"Not only are rest areas important places for drivers to take a break from the road, they're a place where Arizona can make a good impression on those from elsewhere," ADOT Director John Halikowski said. "They have to be clean and provide the services visitors expect on their travels across Arizona."
Rest areas once were little more than bare-bones stopping spots on the freeway, offering drivers only a chance to visit a restroom and stretch their legs before getting back on the highway. Today, renovated rest areas offer much more.
All Arizona rest areas include drinking fountains and vending machines, pet exercise areas and relief stations. Some, including Sunset Point on I-17, offer stunning mountain and desert views. And they're clean: Caretakers are on-site at most rest areas 16 hours a day.
Updates will continue around the state through 2020, when the Mazatzal Rest Area on SR 87 south of Payson is scheduled to reopen. That facility has been closed since 2009.
Arizona rest areas
Interstate 8:
Mohawk, milepost 56, update 2016
Sentinel, milepost 85, no update scheduled
Interstate 10:
Ehrenberg, milepost 5, updated 2014
Bouse Wash, milepost 53, updated 2013
Burnt Well, milepost 86, updated 2014
Sacaton, milepost 181, update 2017
Texas Canyon, milepost 320, updated 2016
San Simon, milepost 388, update 2016
Interstate 17:
Sunset Point, milepost 251, updated 2013
McGuireville, milepost 297, updated 2013
Interstate 19:
Canoa Ranch, milepost 32, update 2017
Interstate 40:
Haviland, milepost 22, update 2016
Meteor Crater, milepost 235, update 2019
Painted Cliffs, milepost 358, update 2019
US 60:
Hassayampa, milepost 116, updated 2013
Salt River Canyon, milepost 292, updated 2014
State Route 87:
Mazatzal, milepost 236 (at SR 188 interchange), update 2020.