New SR 89 bridge at Hell Canyon opens to traffic
Wider, stronger structure replaces original 62-year-old bridge
June 27, 2016
PHOENIX ‒ The new State Route 89 bridge at Hell Canyon is longer, wider and better able to accommodate commercial traffic between Prescott and Interstate 40 than the 62-year-old span it replaces.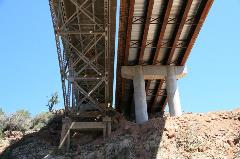 The Arizona Department of Transportation opened the $14.4 million bridge to traffic Thursday, June 23, after 13 months of work.
"SR 89 between Prescott and I-40 is not only an important commuter route between central and northern Arizona, but is also a key strategic detour route, when there are closures to I-17, I-40, and US 93," ADOT Northwest District Engineer Alvin Stump said. "The new bridge will help ensure that SR 89 can continue to provide these critical transportation needs, including oversized commercial loads."
The Hell Canyon Bridge, located about 18 miles north of Chino Valley between Prescott and Ash Fork, will carry about 3,400 vehicles each day.
The first bridge over Hell Canyon was a concrete arch structure built in 1923 as part of what was then the Prescott to Ash Fork Highway. That bridge was abandoned in 1954, when the 89 alignment moved west and the just-replaced bridge was completed.
The new bridge is 665 feet long and 47 feet wide – 65 feet longer and 17 feet wider than the structure it replaces – and has added strength from a fourth span. It has 12-foot lanes and 10-foot shoulders in each direction, allowing it to better accommodate oversized loads.
The 1954 bridge, which no longer met state and federal design standards for larger and heavier vehicles, will be dismantled over the next three months.