MVD looks for ways to get Arizonans out of line and safely on the road
New strategic vision to guide policy and process changes at MVD
May 16, 2016
PHOENIX – In the not-so-distant past, someone retaking a road test at an Arizona Department of Transportation Motor Vehicle Division office had to stand in line – not to retake the test but to re-verify the application, a process that required spending several minutes at a window after taking a number and waiting to be called.
Today, that returning individual will retake the test first. Once he or she passes, a customer service representative will then process the rest of the application.
The change, which saves time for the test-taker as well as other waiting customers, is just one of the ways MVD is innovating to achieve its strategic vision of getting customers out of line and safely on the road.
"We're continually looking to see where we can save time or even a visit to an office," ADOT Motor Vehicle Division Director Eric Jorgensen said. "'Out of line and safely on the road' is the way we're doing business to benefit the residents of this state."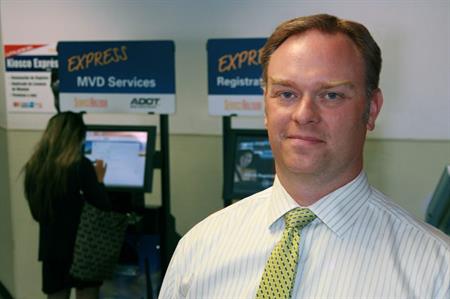 Jorgensen, who became MVD director in March 2015, said there are several reasons behind the push to streamline processes and create more value for customers, starting with a philosophy his father shared.
"He would tell us, 'If you see something that needs to be done, do it,'" Jorgensen said. "That saying has stuck with me, and I use it every day."
He shares that philosophy with employees, noting that suggestions and feedback from those working at MVD offices have driven process improvements.
Another philosophy that drives Jorgensen is "a good plan today is better than a perfect plan tomorrow."
"It's important to build momentum. Sometimes we have to build the race car while in the race," Jorgensen said. "We have identified a lot of projects at MVD that will help us build that momentum and carry us to greater things."
MVD's vision is part of an agency-wide commitment to continuous improvement that involves every aspect of ADOT operations.
For MVD, finding new ways to leverage technology is another way to get customers out of line. That starts with expanding what can be done through ServiceArizona.com. The website and the 43 ServiceArizona kiosks at MVD offices and courthouses around Arizona offer more than 20 motor vehicle services such as vehicle registration renewal and ordering replacement driver licenses and specialty license plates, with more to come.
ServiceArizona initiatives include rolling out online appointment scheduling for all MVD offices. That's already happening on a smaller scale for those wishing to convert driver licenses to the new Voluntary Travel ID at select MVD offices.
"We live in a time where technology allows people to conduct a lot of business anytime and anywhere," Jorgensen said. "We want to do the same with the MVD and reduce or even eliminate the need to physically come into an office."
An innovative approach is allowing MVD to modernize its computer system over the next few years through a partnership with IBM, which maintains ServiceArizona.com. A portion of all sales through ServiceArizona.com are going toward computer system improvements that will make motor vehicle services more accessible and efficient.
MVD also continues expanding options and convenience for customers through Authorized Third Party providers, with 165 businesses statewide providing services including a growing number offering driver licenses.
Ultimately, getting customers out of line and safely on the road is about helping people get what they need from the MVD in a timely and efficient way.
"Like most people who become public servants, MVD employees ‒ myself included ‒ want to help others, make things better and be part of a solution," Jorgensen said. "It's happening here at the MVD. We're making a difference every day."
To learn more about the Motor Vehicle Division, visit azdot.gov/mvd.