Budget extra time with Southern closing at 59th Ave. for interchange work
Baseline, Broadway open through South Mountain Freeway work zone
November 24, 2017
PHOENIX – Motorists who normally use Southern Avenue at 59th Avenue need to plan ahead and allow extra travel time as the Arizona Department of Transportation starts construction Monday, Nov. 27, on a Loop 202 South Mountain Freeway interchange in Laveen.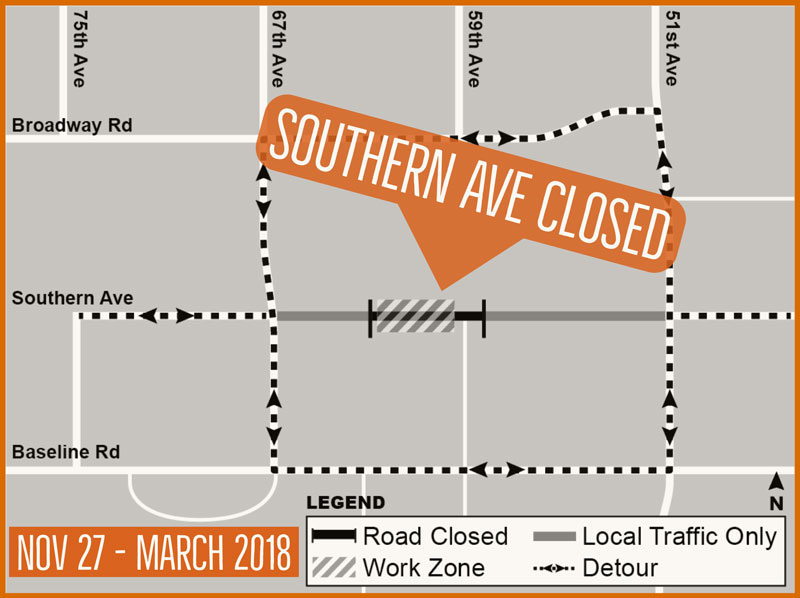 Southern Avenue will be closed at 59th Avenue through March so crews can build the southern half of one of the 22-mile freeway's 13 interchanges.
Baseline and Broadway roads are among options for east-west travel between 51st and 67th avenues. Heavier-than-normal traffic is expected on alternate routes during this extended closure.
The full closure of Southern Avenue at 59th Avenue will allow crews to install drainage structures and relocate utilities, which require open trenches across the full width of the roadway.
Southern Avenue will be widened to complete the interchange in two phases. Paving in the first phase will allow crews to complete the northern half of the interchange without a second extended closure.
Local traffic and access to nearby schools and businesses will be maintained at all times.
In order to build the interchange, crews will complete the following work:
Perform earthwork needed for the freeway and connecting ramps
Begin construction of a 125-foot bridge over Southern Avenue
Install underground utilities and drainage structures
Pave the eastbound Southern Avenue lanes
After the Southern Avenue closure is lifted, additional work will include paving the ramps and mainline freeway, installing signage, constructing retaining walls, finishing construction of the Southern Avenue bridge, completing final striping and adding landscaping.
The South Mountain Freeway, which is scheduled to open in late 2019, will provide a long-planned direct link between the East Valley and West Valley and a much-needed alternative to I-10 through downtown Phoenix. Approved by Maricopa County voters in 1985 and again in 2004 as part of a comprehensive regional transportation plan, the South Mountain Freeway will complete the Loop 202 and Loop 101 freeway system in the Valley.
Real-time highway conditions are available on ADOT's Arizona Traveler Information site at az511.gov, by calling 511 and through ADOT's Twitter feed, @ArizonaDOT. When a freeway closure or other major traffic event occurs, our free app available at ADOTAlerts.com will send critical information directly to app users in affected areas – where possible, in advance of alternate routes.