Auto insurance updates now a part of ServiceArizona.com
New features allow insurance coverage updates and insurance registration reinstatements
May 30, 2017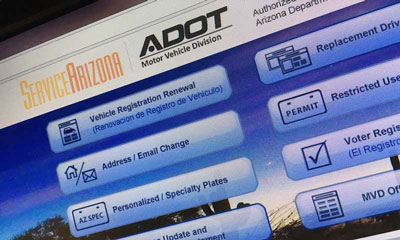 PHOENIX – Having insurance for your car, truck or other motor vehicle isn't just a wise idea, it's the law. Now the Arizona Department of Transportation Motor Vehicle Division has added two options to help customers report their insurance information online at ServiceArizona.com.
The Insurance Update is free and allows customers to electronically provide information regarding their insurance coverage directly to MVD. Insurance companies are given seven days by law to update policy information when changes such as cancellations or renewals occur. On those occasions when there may be a lag in that reporting time from an insurance provider, this online option will help customers with valid insurance to immediately update their MVD record and avoid a suspension.
The update tool is easy to use and asks for information that is found directly on an insurance card.
In addition to the Insurance Update, the Reinstatement Function will allow customers to reinstate vehicle insurance that had been previously canceled or lapsed. The function will determine eligibility for reinstatement, make real-time updates to the MVD customer database upon completion, allow the customer to pay the $50 fee for each vehicle reinstatement, and provide a receipt confirmation that indicates the registration has been reinstated.
For more information: azdot.gov/mvd.