Loop 303/Greenway intersection closure slated for this weekend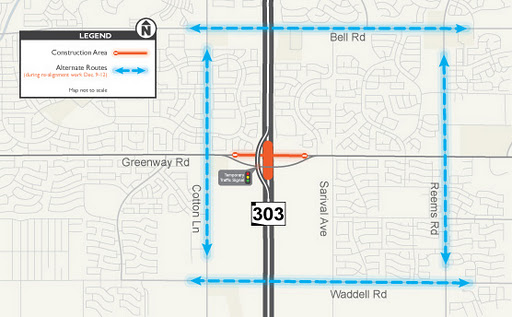 Crews are going to move a lot of dirt as they widen Loop 303 in the West Valley. But, at one intersection, there's a crucial bit of work that needs to get done before they can start digging!
This weekend the Loop 303/Greenway Road intersection in Surprise will be closed beginning 10 p.m. Friday so crews can quickly re-align the intersection, install a temporary traffic signal and temporary sidewalk.
Access to homes and businesses in the area will be maintained (see map for detours) and the "new" intersection will be open in time for Monday morning commutes.
The re-aligned intersection will be in place for about 10 months and is necessary so crews can work to build a Greenway Road overpass that eventually will take traffic over the improved section of Loop 303.
During construction of the overpass, work trucks will use a box culvert recently built at the intersection as a "pass-through" to haul an estimated 75,000 loads of dirt from the site. Both the re-aligned intersection and pass-through structure are designed to create a safer work zone and reduce impacts to drivers.
By the way, if you've been following our "Building a Freeway" series, you already got a look at this box culvert in our recent post about false work and sand jacks. We'll have more in the coming weeks on how the "pass-through" works and we'll show you some video of this weekend's construction.
But for now, drivers should be aware that Greenway Road will be closed in BOTH directions between Cotton Lane and Sarival Avenue this weekend. Loop 303 also will be closed in BOTH directions between Waddell and Bell roads. Waddell or Bell roads are open for east-west travel and Reems Road is a good option for north-south trips.