Paving the newest stretch of Loop 303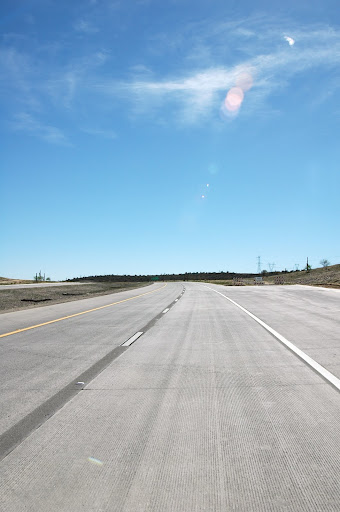 The countdown is on!
It won't be long before drivers in the West Valley get to experience the newest section of Loop 303, otherwise known as the Bob Stump Memorial Parkway.
Stretching between Happy Valley Parkway and Interstate-17, the 14-mile segment opens this month and represents just the start of improvements slated for Loop 303. Later this week we'll delve deeper into what the future holds for this freeway, but for now, we want to focus on one of the steps involved in the detailed process of building a road … today we're talking about concrete!
This four-lane segment of the 303 contains almost 800,000 square yards of concrete pavement in just the roadway alone. But instead of purchasing and hauling concrete from an outside source, contractors on this project mixed their own on site using three portable concrete plants.
Portable plants are a huge time and money saver. They require only one person to operate (typically a few people will assist in loading material), and once the plants are fired up, they produce roughly 300 cubic yards of concrete an hour. According to one estimate, mixing on site saves about 20 percent over what it would cost to purchase from a commercial plant.
And not only did they mix the concrete at the project site, but some of the material that went into the actual concrete and roadway base (the layer of material between the dirt on the ground and the concrete) was mined on site, too. ADOT's contractor was able to crush and use 500,000 tons of rock for the roadway base. By recycling materials on site, more than 37,000 truck trips were eliminated.
But how do they make the concrete? Well, if you can imagine mixing a giant cake, you can visualize how concrete is made.
First the contractor has the components – cement, flyash, aggregate and water – delivered and placed in stockpiles around the plant. The material is then loaded onto a conveyor belt and weighed by a computer before being placed in the mixer.
In just a minute and a half the concrete is ready to be loaded onto a transport vehicle and then placed on the roadway.