Time is running out: add your voice now to ADOT's passenger rail study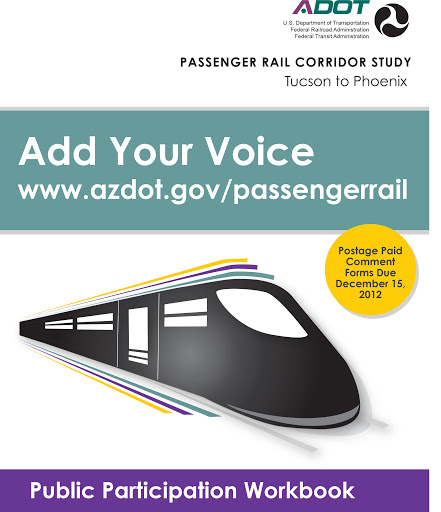 It was just two months ago that ADOT again put a call out to the public seeking input on the possibility of a passenger rail line between Phoenix and Tucson…
Since that time, we've heard from many of you – 461 paper comment forms have been submitted so far, along with 2,050 online surveys and 750 additional comments.
But if you haven't yet voiced your thoughts on the seven alternatives that have been selected for further study, don't worry, there's still some time to share your views before the public comment period wraps up on Dec. 15.
Some background…
In the year since the first public involvement campaign last fall, ADOT has identified six potential rail alternatives and one express bus alternative that could link Phoenix and Tucson, while meeting demands for future growth and travel options along I-10, one of the busiest interstate corridors in Arizona.
The alternatives for passenger rail all focus on a blended service that would provide both an intercity service that directly connects the two metro areas and a commuter service that would focus on more frequent stops for daily commuters.
How to give your input
In an effort to reach out to the public for ideas and opinions, ADOT attended several community events this fall. There is just one more remaining – the Mesa Arts Festival: 10 a.m.-5 p.m., Dec. 8 and 9, One East Main Street, Mesa.
If you attend, please stop by the ADOT booth and share your input…
But, if you won't be in the area, you can visit our webpage to learn about the alignments and complete an online survey.
More on the study
Should the study conclude that a passenger rail line is feasible between Phoenix and Tucson, ADOT would complete further planning and environmental studies and development activities prior to construction of any segment in the corridor.
There is currently no funding identified to build a passenger rail line. ADOT will work with the public, stakeholders and policymakers to identify a funding source, should the project move forward.
More information on ADOT's Passenger Rail Corridor Study is available online.