Landscaping research earns honors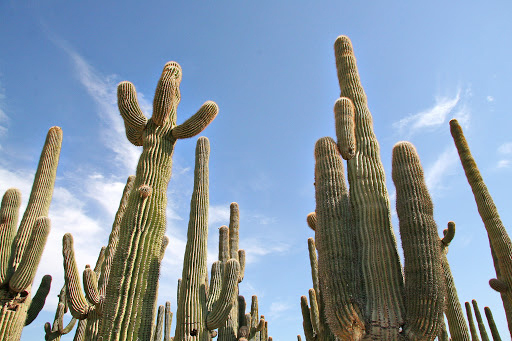 Successfully transplanting a cactus from one spot to another takes more than just a green thumb…
In fact, as one ADOT study shows, many factors can affect whether or not a plant will survive after transplantation.
But, before we go any further on that study, let us first quickly explain why we're blogging about plants instead of our more typical topics – you know, roads, bridges and dirt.
It's because landscaping is an important element in roadway design – landscaping creates a sense of place and helps make the right of way area compatible with its surroundings.
And, we actually have blogged about it a few times before – an overview of why ADOT salvages and transplants cacti and other plants can be found in this blog post from last year.
OK, back to the study…
It focused on Saguaros and, along with a report on Ironwood tree salvage, recently was awarded honors from the American Society of Landscape Architects for its findings!
"The award recognized that we did some research that's valuable to the industry," said ADOT's Chief Landscape Architect LeRoy Brady.
Brady says he and his team knew a lot about effectively transplanting Saguaros and Ironwoods, but wanted to research ways to increase the plant survival rates.
That's when they proposed the research project.
Through the bid process, contractor Logan Simpson Design started studying projects going back at least 10 years, Brady said.
The researchers looked at characteristics shared by the Saguaros that survived being replanted.
What they found, according to Brady, was that the cacti with the highest survival rates were replanted as spears – before they developed "arms." And, the research discovered, Saguaros did better if they were replanted at the same, exact depth they were originally growing. Any deeper, even by just a few inches, says Brady, could impact a plant's water intake.
"We found out it makes a lot of difference," Brady said. "The (cacti) that were transplanted continued to thrive and survive if they were replanted at the same depth."
When it came to Ironwood trees, Brady says he and his team already knew that Ironwoods had a better survival rate if they were transplanted during warmer seasons, but construction schedules don't always allow the transplants to occur at a specific time.
"We couldn't always transplant when we wanted to," said Brady, adding that the research confirmed their method of keeping roots warm with a compost mixture was really effective in ensuring the Ironwoods survived after replanting. "It kept the roots 15 degrees warmer and increased the survival rate."
Why the research matters
Brady says it's smart to research new methods and take time to learn about the most effective ways of keeping plants alive…
"It makes it so that we can improve the salvage specifications and transporting details, along with how they're to be treated when they're salvaged and replanted," he said. "That way we're maximizing the return on what taxpayers spend."
Better methods also help keep Arizona's landscape looking beautiful.
"Our desire is to have that (rural) highway section blend in with the surrounding area," Brady said. "It makes a lot of sense to transplant the native plants so that section maintains its beauty and recovers from that construction."