New specialty license plate options now available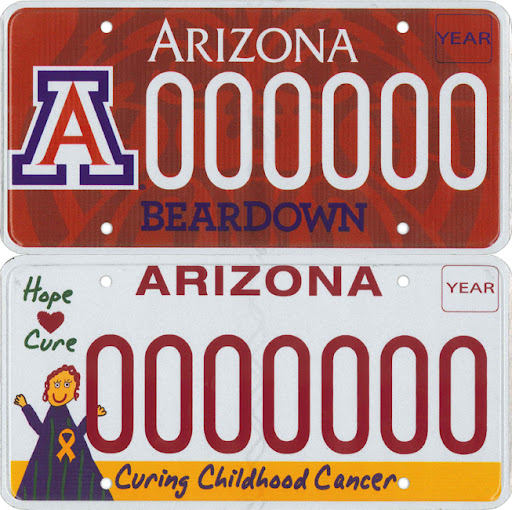 If you're in the market for a new license plate we've got some good news for you – two new options are now available to consider!
Late last month a new specialty license plate benefitting childhood cancer research was released along with a re-design of the specialty plate supporting the University of Arizona.
Like all specialty plates, these will cost drivers a $25 initial application fee and a $25 annual renewal fee – $17 of which goes right to the nonprofit group/cause that supported the plate's production (more on that later in the post).
The childhood cancer research plate was supported by Ella's Tea Party, Inc., a nonprofit organization created by friends and family of a young girl fighting cancer.
Money collected from the sale of this plate will go toward a fund supporting research of childhood cancer and rare childhood diseases. Money collected from sales of the newly redesigned U of A plate will go to the university for academic scholarships.
Just a note to anyone driving around with the "old" U of A design: don't worry – those plates are still valid. However, for a $5 replacement fee you can purchase the new plate design.
More about specialty plates
Check out this blog post from last year for an in-depth look at the process behind the creation of specialty plates … or just keep reading for a condensed version.
ADOT and MVD do not decide which plates get the OK, that's up to state lawmakers.
First, a nonprofit group or cause has to get the attention of lawmakers. From there, a bill sponsored through the legislature must pass and then be signed into law by the governor.
Once that happens, the group must pay a $32,000 implementation fee – this covers programming costs and production. Next up is design. Once a prototype is approved by law enforcement officials, the nonprofit group and MVD's director, the new plates are rolled out and made available to motorists.
For even more information on license plates, visit MVD's Web page on plates and placards, or read some of our previous blog posts.