SR 24 construction requires Santan traffic switch this weekend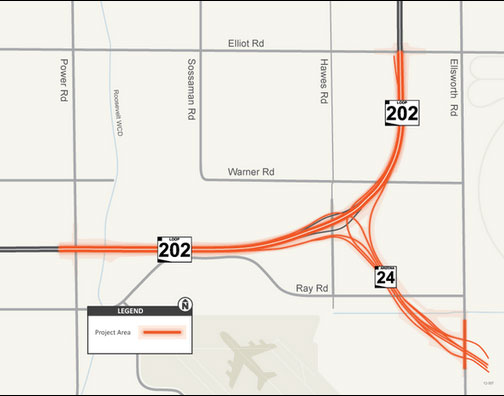 It's been a while since we checked in with the SR 24 out in the East Valley.
You remember this project, right?
Also known as the Gateway Freeway, SR 24 is designed to span one mile between Loop 202 (Santan Freeway) and Ellsworth Road. When construction is finished in fall 2013, this new freeway will feature a freeway to freeway interchange, complete with elevated ramps connecting to and from Loop 202 near Hawes Road.
Crews have been at work for the past six months and now we're headed toward a project milestone…
A traffic switch is coming
This weekend, Loop 202 (Santan) will be closed between Power and Elliot roads so crews can install temporary concrete barrier and restripe the road – the closure is expected to last through 5 p.m. Sunday, Sept. 30.
The work is necessary to prep the roadway for an upcoming long-term detour that will move westbound traffic onto the eastbound lanes of Loop 202 between Warner and Hawes roads.
After this Sunday, both east and westbound drivers will be using two lanes each on the eastbound side of Loop 202. The traffic switch will allow crews to continue constructing the ramps and bridges that will connect Loop 202 to the new one-mile stretch of SR 24.
This traffic switch is the first phase of ramp and bridge construction. In phase two, eastbound traffic will be detoured onto the westbound lanes of Loop 202 in Mesa. These detours will be in place until late summer 2013.
When work is finished drivers can look forward to…
A new freeway to freeway interchange, a widened Loop 202 and the first mile of the new SR 24 ending at Ellsworth Road.
Enhanced access from southeast Maricopa County to northeast Pinal County.
Additional routes into and out of Phoenix-Mesa Gateway Airport and its surrounding businesses and schools.