ADOT oversees quick removal of graffiti throughout the state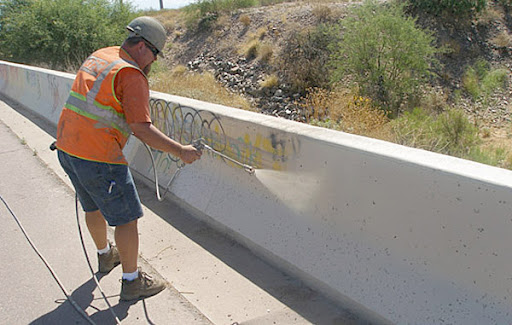 It's a real shame to see a road tagged with graffiti -- especially because we know all about the effort that goes into building a freeway in the first place.
Unfortunately, it does happen.
Fortunately, ADOT is vigilant when it comes to painting over the offending spray paint…
By the way, did you know there's a way you can us help out?
If you spot graffiti on ADOT right-of-way (think freeway ramps, drainage structures, concrete barriers, sound walls, etc.) in the Phoenix-metro area, you can call ADOT's graffiti hotline to report it.
That number is 602.712.6726.
All you've got to do is call and leave a message with the location and a description of the graffiti and our crews will take it from there…
How it works
ADOT has a company on contract that handles graffiti in the Phoenix area. When a call comes in, ADOT sends out a work order and, typically, the graffiti is taken care of within the same day (priority is given to vulgar or threatening graffiti).
Once on location, the crew actually mixes a paint color on-site, according to ADOT maintenance superintendent John Zandler.
"They are trying to make it look like it was never tagged and I think they do a pretty good job with that," he said.
Making an area look as if it had never been tagged is important to deterring future taggers. A re-painted area that's been poorly color-matched can act as a "frame" for the next tagger, Zandler said.
"If you can make it look like nothing ever happened, they'll stay away from it," Zandler said.
So, how do crews match the paint effectively?
"ADOT probably has six or eight standard colors," Zandler said. "That helps, but really they start out with a base paint and mix colors on their truck to make whatever color they need."
From there, the crews will test the paint on the wall, let it dry and, if it's a good match, spray it on to cover the graffiti.
Funds to pay for the contracted company come from the Maricopa Association of Governments (MAG) and are part of the regional transportation plan.
Graffiti outside the metro area
So, what about graffiti in places outside of the Phoenix-metro area?
ADOT maintenance crews handle it in areas across the state and they're just as vigilant.
Once the crews spot graffiti (or, it's reported by a driver), they'll go out and paint over it similarly to the methods outlined above.