MVD Director named new AAMVA Chair, additional honors received during conference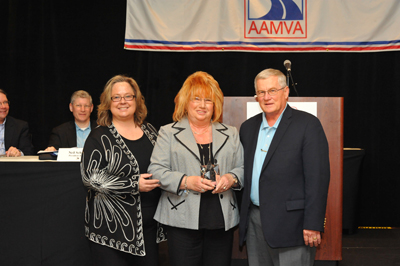 ADOT and its employees earned honors at the AAMVA 2012 International Conference held last month in North Carolina...
AAMVA, by the way, stands for the American Association of Motor Vehicle Administrators. It's an organization that's been around since 1933 and is dedicated to representing chief motor vehicle administrators and law enforcement officials. The association not only develops uniform programs in driver licensing and vehicle titling/registration, but it also works to promote traffic safety and uniformity.
During the recent conference ADOT's own MVD Director Stacey Stanton was elected Chair of the AAMVA International Board of Directors! Stanton has led the ADOT Motor Vehicle Division since 1999 and she's responsible for the daily management and oversight of more than 1,000 employees.
Here's what AAMVA President and CEO Neil Schuster had to say about the appointment...
"We are very excited to have Stacey Stanton leading us in to 2013 as AAMVA Chair," Schuster said in a recent news release. Her background, along with her enthusiasm and commitment to public service, will benefit AAMVA greatly in the year ahead."
But that's not all... ADOT's MVD also received two customer service excellence awards at the conference.
Anne Yanofsky was honored with an individual excellence award. Yanofsky is the Motor Vehicle Division Metro East Area Manager who oversees eight customer service offices, mostly in the Phoenix area, and serves as MVD's liaison with Donor Network of Arizona.
She also has helped lead MVD efforts to provide services to the homeless population. Just this February, Yanofsky helped organize MVD's participation in the Arizona StandDown – an annual event where this year MVD assisted more than 700 homeless or at-risk veterans.
Way to go, Anne!
Our congratulations also go out to the Electronic Data Services (EDS) unit for receiving a Team Customer Service Excellence award. The honor was bestowed for projects providing access to MVD information for authorized government recipients. Project benefits include potential fraud reduction, labor savings for users and increased revenue collection.
One more award worth noting came earlier this year. MVD received an AAMVA PACE Regional Award, which recognizes excellence in public affairs and communications, for the ADOT-produced "Serving Soldiers" video that highlighted efforts undertaken by MVD staff from the Sierra Vista office to assist more than 300 soldiers returning from a year of service in Iraq.
You can learn more about MVD by visiting the division's Web page, or by reading some of our previous blog posts.