Work continues on I-10/Loop 303 interchange project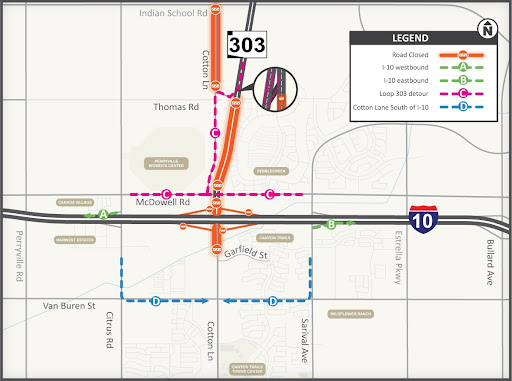 West Valley drivers have, no doubt, already noticed there's a lot happening over on the I-10/Loop 303 interchange project, but for the rest of you, we thought we'd provide a quick update…
Just back in July, a couple of new ramps opened up at I-10/Sarival Avenue (an eastbound on-ramp and westbound off-ramp). And, since then, two additional ramps have opened – a new westbound I-10 on-ramp and eastbound off-ramp at Citrus Road.
Now that those ramps are open to drivers, ADOT has been able to move forward with the permanent closing of the I-10 on- and off-ramps at Cotton Lane and the partial closure of Cotton Lane and Loop 303 through fall 2014 (see map above). The closures are necessary so crews can continue to work on the Loop 303/I-10 interchange (you can take a "virtual" look at the future interchange online).
When the $134 million interchange project in Goodyear is complete, I-10 access to Cotton Lane will be restored via frontage roads stretching between Sarival Avenue and Citrus Road.
Besides the new interchange, ADOT is working on a series of ongoing projects that will modernize Loop 303 into a six-lane freeway between I-10 and Grand Avenue by late 2014.