Bridge replacement project under way in Bylas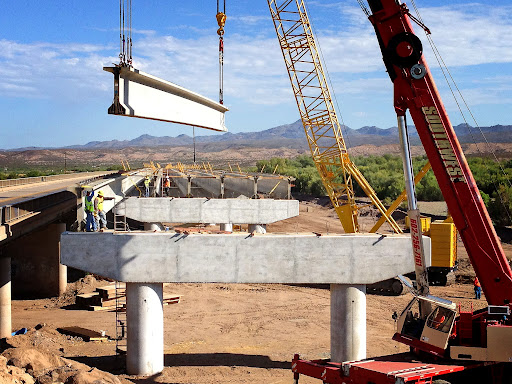 This might sound cliché, but ADOT really is getting rid of the old to make room for the new…
It's happening right now on the San Carlos Apache reservation as ADOT crews construct a new bridge to replace the US 70 Gila River Bridge at Bylas.
That existing 23-span steel girder bridge will remain in use until the new, 15-span precast concrete girder bridge is constructed just adjacent to it (so, technically we're not getting rid of the old until after we finish constructing the new, but you get the point).
About the project
The bridges (old and new) are located on US 70, about one mile west of the Bylas community. The existing bridge – constructed in 1957 to carry US 70 traffic over the Gila River – is 1,829 feet and among the longest bridges in Arizona. It has served its purpose well, but after 55 years of use, the bridge is outdated and doesn't meet modern standards.
It's time for an update
The $12.7 million replacement will not only give drivers a new bridge with wider travel lanes and emergency shoulders, but the project also includes intersection improvements and a pedestrian walkway.
Work began in February and is expected to wrap up by the fall. That's when the new bridge will open to traffic and the old bridge will be demolished. Crews will come back in spring 2013 to pave the bridge and new highway approaches. But don't worry, the bridge will be drivable this fall – it just won't have asphalt pavement because it will be too cold to pour the pavement.
P.S. You know how we love to document bridge demolitions here on this blog, so you better believe we'll have more on this project as it continues. We promise to bring you video coverage the bridge demo later this year!