Signs are put to the test underneath Arizona's sun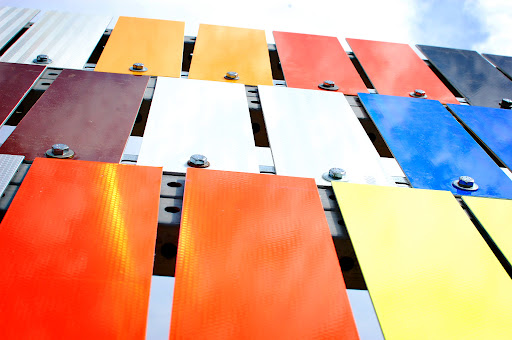 Hard to believe, but after more than 200 blog posts we're still surprised by some of the things we find out here at ADOT.
For example, did you know there's a small yard adjacent to an ADOT field office parking lot filled with dozens of sign samples?
We didn't either … at least not until just recently.
Turns out they are there to soak in some sun. No joke – ADOT field tests sign sheeting material to see how well it holds up against the heat. Arizona's the perfect place for a test like that, don't you think?
The sign sheeting material (which you can think of as a big sticker – it's the reflective, colorful material adhered to metal signs) is tested by ADOT as part of the National Transportation Product Evaluation Program (NTPEP). Arizona, along with a few other states, evaluates the sign test panels for three-year periods. The other states test for different weather- and location-related concerns … in Minnesota they check the signs reaction to freezing/thawing and in Florida it's the ocean's salt spray.
Before we go any further, let us tell you a little bit about NTPEP.
It's a program that operates under AASHTO (a nonprofit association that represents this country's highway and transportation departments) and besides sign sheeting, tests a number of items related to transportation, including concrete admixtures, PVC pipe and even temporary traffic control devices.
The results gathered by the DOTs doing the field testing is entered into a database. That information is then reported by NTPEP and, according to its website, is widely used by AASHTO member departments for decisions on which products to approve for their QPL (Qualified Product Listing).
OK, back to the signs…
ADOT Chemist Jeff Faulkner explains that the sign sheeting samples sit in the sun for three years. He and his crew take readings once a year ... they're looking to see how the signs keep their color and reflectivity (important for night driving).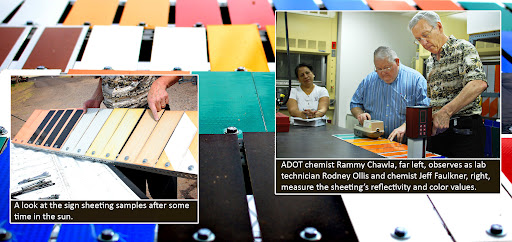 A hand-held instrument called a retroreflectometer reads for reflectivity and measures the way light bounces off the material.
An easy digital readout tells Faulkner and his team what they need to know.
Another instrument – a color measurement spectrophotometer – is used to measure color year to year in order to detect fading.
Of course, Faulkner and his colleagues use their own senses to report on how the sheeting is holding up. They look at the signs each year and note whether there are changes to the material – blistering, cracking and fading.
All the data they gather is entered into the NTPEP site and a report is prepared every three years. Because there are always new products coming onto the market and because manufacturers often update their older products, testing continues year after year.
For more on NTPEP, visit the program website.