ADOT's Safe Routes to School program funds $4.5 million in projects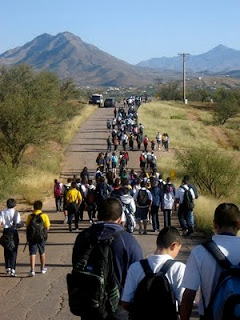 It's still summer vacation for most students, but several schools across Arizona already are planning on creating or enhancing their Safe Routes to School programs for next school year, thanks to reimbursement grants from ADOT.
Just last month, the State Transportation Board approved more than $4.5 million in grant funding for 27 Safe Routes to School projects in schools and communities statewide!
The projects, from easy start-up programs to major infrastructure improvements, are all designed to encourage kids of all ages to walk or bike to school and develop a healthy lifestyle...
That's really the goal of Safe Routes to School – a federally funded program, administered in Arizona by ADOT. You can read more about the program HERE and HERE, but basically ADOT distributes federal grant money annually to schools, districts, tribal communities, municipalities and nonprofit agencies that successfully outline projects designed to help remove the barriers preventing students from safely and conveniently walking or biking to school.
More about the recent grant funding approval...
The 27 projects that recently received grant funding include 12 designated for infrastructure improvements (such as the construction of sidewalks, crosswalks, bike lanes, signage and striping). An additional 15 projects are for non-infrastructure elements, such as providing bike helmets to students, safety education and law enforcement. View a complete list of grant recipients and their awards for the current funding cycle on the Safe Routes to School web page.
Walking School Bus
ADOT's Safe Routes program also recently awarded reimbursement grants for the very first time to support a project called the Walking School Bus. This involves students and parent volunteers meeting at a designated safe location to walk to school as a group. The grants cover the cost of a Walking School Bus coordinator and stipends for volunteers to assist the coordinator.
"Walking School Buses are simple and fun ways for groups of kids to get a bit of physical activity right in their own neighborhoods," said Brian Fellows, ADOT's Safe Routes to School coordinator. "They can work anywhere — in urban, suburban and rural areas. One way to organize them is by utilizing a remote park and walk location — a park, retail area, church or other place of worship. Select a safe drop-off point away from the school site. Parents can drop off their kids at the site — by car or by walking. From here, they join the group of kids on an adult-escorted walk to school. There's safety in numbers. And the program has the added benefit of reducing the number of cars that typically clog the school parking lot."
Eight schools and agencies around Arizona received a portion of the $124,000 in grant money designated for the Walking School Bus program.
Safe Routes to School is a completely federally funded program. Since its first grant cycle in 2007, ADOT has provided more than $15 million to schools and communities statewide.
The federal Safe Routes to School program was created by the U.S. Congress in 2005 as a response to the growing epidemic of childhood obesity and diabetes.