Phoenix-Mesa Gateway Airport named 2012 Airport of the Year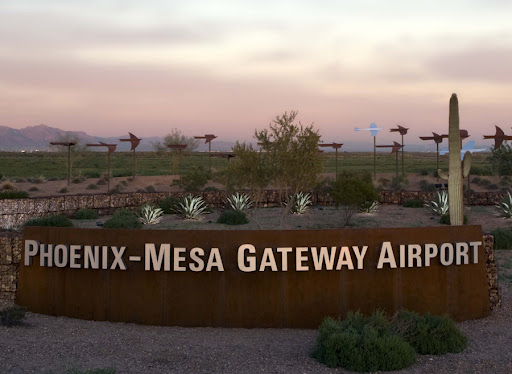 This is a blog post about the 2012 award for Airport of the Year – an honor presented annually to an airport that accomplishes much in the areas of community relations, airport management, maintenance activities and innovative programs.
But, before we get too far along, you might want to re-read this blog post that outlines ADOT's role in aeronautics and airport development around the state. (People sometimes forget ADOT does more than build and maintain freeways!)
OK, now that you've got that background information, on to the award.
And, the winner is…
ADOT has named Phoenix-Mesa Gateway Airport the 2012 Airport of the Year. The award was presented to airport managers and staff last month at the Arizona Airports Association Conference in Tucson.
"Our thanks go to ADOT for this high honor," said Lynn Kusy, executive director of Phoenix-Mesa Gateway Airport. "Much attention has been given to the rapid growth of passenger service at Gateway over the past five years. But what makes this award so special is that the criteria are not focused on passenger service, but on community engagement, innovative programs and excellence in airport management. Gateway Airport staff is led by a set of values that includes innovation and pride in all that we do, and this award is a validation of those efforts."
ADOT and airports
While there are 114 airports across Arizona, 83 airports—including 11 privately owned airfields and 14 Native American owned airports—are identified in ADOT's system of airports.
These 83 airports vary in size and serve different functions in meeting Arizona's aviation and economic needs. This system of airports brings in approximately $38.5 billion per year to the state's economy, according to state research. ADOT works with 65 of the 83 airports throughout the federal and state grant process as part of the Airport Development Program.
ADOT's Aeronautics Group within the Multimodal Planning Division accepts applications and nominations for Airport of the Year. An internal committee reviews the applications and material submitted before making a selection.
"We believe (presenting the award) is a great way to recognize the public airport's role in the communities in which they exist and function," said Aeronautics Group Manager Michael Klein.
Phoenix-Mesa Gateway Airport is considered one of the fastest growing hub airports in the United States and has earned a reputation for being a convenient alternative to Phoenix Sky Harbor International Airport. Last year, the airport served nearly one million total passengers, with more than 171,200 takeoffs and landings, making it the 65th busiest airport in the United States, according to the Federal Aviation Administration.
For more on Phoenix-Mesa Gateway Airport and why it was chosen for this year's award, visit ADOT's airport development Web page.