Alternative fuel license plates explained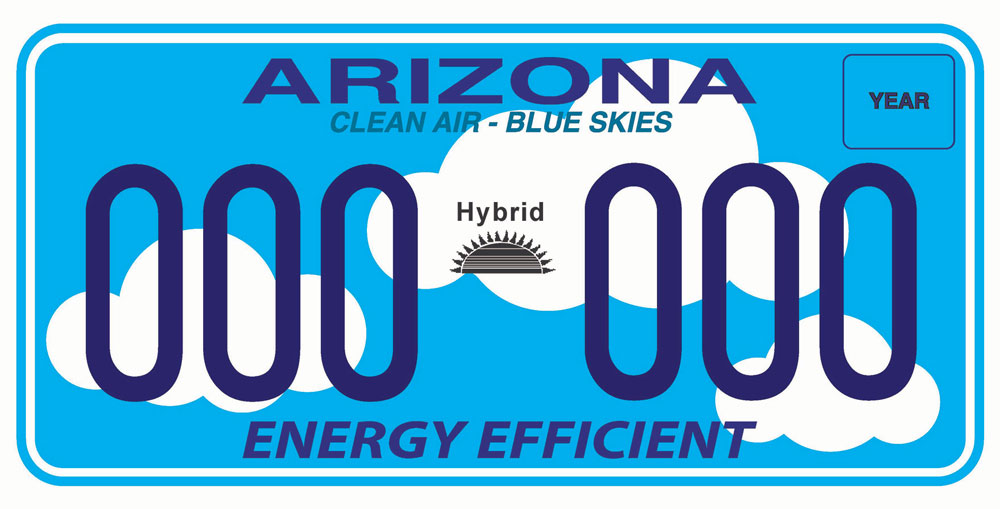 *** UPDATE (5/6/15) *** The availability of energy-efficient license plates for owners of qualified vehicles has ended as the maximum number of plate applications has been reached.
Please see our recent blog post for the latest.
*** UPDATE (5/20/2014) *** The program requirements for qualifying vehicles have changed.
Qualifying vehicles will be limited to include only plug-in hybrid electric vehicles according to the certification list established by the U.S. Environmental Protection Agency. The EPA is responsible for issuing the rules that establish the certification and labeling requirements for low emission and energy-efficient vehicles.
Plug-in hybrid electric vehicles may be driven for a longer period of time on solely electric power, reducing both the amount of fuel consumed and tailpipe emissions released compared to normal hybrid vehicles. Reduced vehicle pollution supports the purpose of the "Clean Air – Blue Skies" program by encouraging the use of low-emission vehicles to improve the air quality in the Phoenix metropolitan area.
For additional information, please see this blog post.
*******************
Pop Quiz: What's required to receive one of those alternative fuel license plates (you know, they're blue with clouds and let you drive in the HOV lane)?
It's OK if you don't know the answer. In fact, this is one of those questions that we hear often and we'll share the answer in a minute. First, we just wanted to mention that we love answering your transportation-related questions. We've amassed quite a collection of FAQs here on the blog – from queries about landform graphics, signs and even a question on why we build lanes when we do.
We hope you keep those transportation questions coming our way! You can leave them here in the comments, or over on our Facebook page.
All right, back to the alternative fuel license plates …
Alternative fuel license plates are available at any time for vehicles powered exclusively by petroleum gas (LPG, propane), natural gas (CNG/LNG), a blend of 70 percent alternative fuel and 30 percent petroleum-based fuel, hydrogen, solar, or electric (excluding golf carts). Vehicles with an alternative fuel license plate have unrestricted access to the HOV lane.
You may also have heard about the federally authorized Energy Efficient Pilot Program. Three hybrid vehicles qualified for this program (any model year Toyota Prius, Honda Civic Hybrid or Honda Insight) that was initiated in February 2007.
The program allowed a maximum of 10,000 qualifying vehicles, a number that was reached in May 2008. After a few years, several of these plates had become available as participating vehicles had dropped out of the program and in September 2011, ADOT announced the re-opening of the program to allow owners of qualifying vehicles to obtain the Energy Efficient license plates that were freed up. The 10,000 vehicle maximum capacity was quickly reached again and the program was closed.
One more thing to note … the Alternative Fuel license plate is a "blue skies" plate and the Energy Efficient plate is a "blue skies" plate with a "hybrid" emblem placed in the center. For more information, check out ADOT's Motor Vehicle Division webpage.