New specialty license plates now available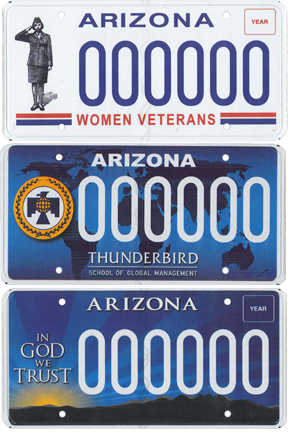 License Plate Bingo just got a little more challenging!
That's because three new Arizona specialty license plates have been released and you can already spot them out on the road.
The "In God We Trust" plate design was made available March 4, along with a plate for the Thunderbird School of Global Management.
Like other specialty license plates, these two cost motorists $25 for the initial application fee and $25 for annual renewal. Of that $25 fee, $17 goes back to the nonprofit group/cause that put up the initial implementation fee to have the plate issued. Money from the "In God We Trust" plate goes toward promoting the national motto and the Thunderbird School of Global Management plate benefits the school's operations and activities.
Another new plate – this one just released on May 6 – recognizes women veterans and benefits the Arizona Veterans' Donation Fund.
There's already a specialty plate that honors veterans, but the new Women Veterans plate is a little different in that you don't have to be a veteran (or a woman) to order one – anyone can make the purchase. Several of Arizona's specialty plates do come with requirements. For example, to order a standard veteran plate, one must be a veteran and provide proof of honorable service. However, the Women Veterans plate is available for anyone to purchase and show support.<
Best Sellers
Special Plates Program Manager Michael Meier says of the newest specialty plates that have been made available within the past few months, the Arizona Centennial plate and the new "In God We Trust" plate have both been selling really well.
Meier also says a few new plates are on the way. There's no release date, yet, but be on the lookout for a redesigned University of Arizona Wildcats plate, a plate recognizing childhood cancer research and one that supports Keep Arizona Beautiful, an organization devoted to litter prevention and cleanup.
To see all the specialty license plates available in Arizona, visit the MVD's Web page on plates and placards and for a look at the specialty plate approval process, check out our blog post from October.