ADOT continues to explore solar lighting to save on fuel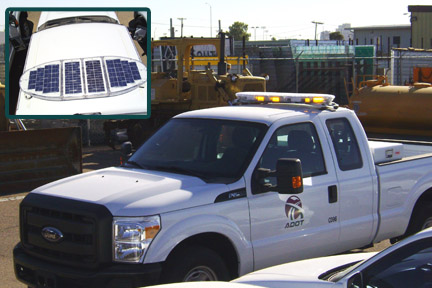 Our calendar is nearing the first day of summer and as temperatures start to soar we're reminded (as we are every year) that Arizona gets sunshine … a lot of sunshine.
Fortunately, ADOT is able to put some of those rays to work.
You might remember that we blogged last August about ADOT's effort to develop and implement solar-powered emergency lighting for its vehicle fleet.
Back then, things were just getting started and about 50 ADOT vehicles were tapped to test out the newly designed solar-powered lights. ADOT's test of solar emergency lights has since focused on how well they work in Arizona's varied climates and temperature extremes.
Now, almost a year later the program is still moving forward.
ADOT plans to install solar emergency lights on 50 additional vehicles over the next several months that will incorporate improvements such as battery packs with a higher heat tolerance, an improved remote control unit with more power level indicators and more lights inside the light bar while testing continues over the next year.
"This solar lights program is part of an agency commitment to use tax dollars wisely," said John Nichols, director of administrative services. "Having emergency lights that can operate without an engine running saves all of us money on vehicle maintenance. It reduces wasted fuel and helps the environment while still meeting the safety needs of ADOT workers."