Pavement-improvement work on SR 347 starts next week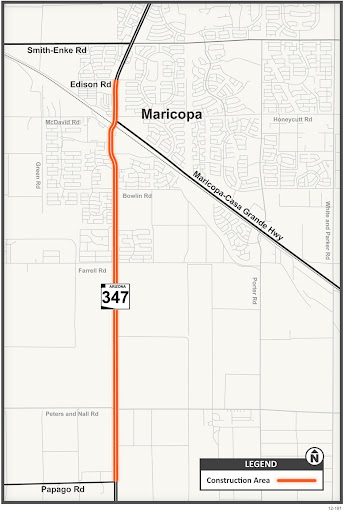 Work on a new pavement-improvement project is about to get under way in Pinal County…
Construction on SR 347 starts May 3 and will include removing the existing top-asphalt layer and repaving the roadway with new asphalt. In addition, new pavement markers and updated signage will be included in the $2.5 million project.
The work is happening along the SR 347 between Papago and Edison roads in the city of Maricopa and crews will be paving through the month of May. Construction will wrap up in early July when crews add final striping to the roadway. But, take note – the schedule is subject to change due to a variety of reasons, including weather, material availability and mechanical difficulties.
What to expect during construction
ADOT advises drivers to proceed through or near work zones with caution. Slow down and be alert for construction equipment and personnel.
Work hours are scheduled 6 p.m. to 6:30 a.m. Sunday through Thursday.
Construction crews will be on-site to control traffic at either end of the work zone.
Be sure to allow extra time if you're traveling or commuting during work hours … delays can be expected.
Business access
Business access will be maintained whenever possible. However, it will be necessary to pave in front of business entrances along SR 347, resulting in intermittent closures. Drivers should use alternative business entrances, if possible.