Hoover Dam bypass bridge receives honor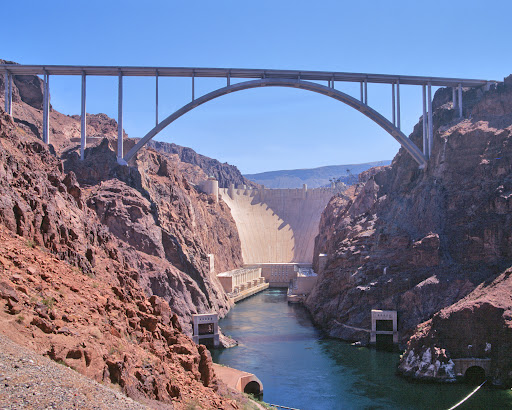 If you follow us on Facebook, you might have seen the photo we posted yesterday as part of our "Where in AZ?" series...
It was a pretty cool shot taken from very high up ... 900 feet above the Colorado River, in fact! Yes, our crew was at the Mike O'Callaghan-Pat Tillman Memorial Bridge and snapped the photo.
The bridge is truly a marvel and is seen as a very important link between Arizona and Nevada for travel and commercial transportation, allowing traffic to bypass the Hoover Dam.
So, when we heard the bridge had been honored with the American Society of Civil Engineer's (ASCE) 2012 Outstanding Civil Engineering Achievement award, we were not surprised.
The announcement was made last month during the ASCE's annual gala. From the ASCE's website ...
"(The bridge) was constructed in a harsh environment where temperatures reached triple digits during the day. The structure is the highest and longest arch concrete bridge in the Western hemisphere and features the world's tallest concrete columns.
Because of the 800-foot gorge below with rock cliffs, steep canyon walls and winds of up to 70 miles per hour, the contractor used two 2,500 foot long cableways connected to 330 foot high towers on each side of the canyon to transport the construction crews and 50 tons of equipment and material into place during the construction.
Due to the high heat, concrete was poured from mid-air at night and was cooled with liquid nitrogen filled tubes. The bridge is part of the five-mile long bypass that consists of four lanes of roadway, eight bridges, interchanges in both Arizona and Nevada and over 3.6 million cubic yards of shot rock excavation.
The project was built for $240 million without a dispute or claim by contractors. Obayashi Corporation and PSM Construction USA were contractors for the bridge while HDR, T.Y. Lin International and Jacobs Engineering were the design and support team. The project is owned by the Arizona Department of Transportation, the Nevada Department of Transportation, the U.S. Bureau of Reclamation, the Western Area Power/Administration and the National Park Service. The Central Federal Lands Highway Division of the Federal Highway Administration was the project and program manager."
Big congratulations to all involved! More information on the bridge can be found online.