From the ADOT Archives: Dust Storms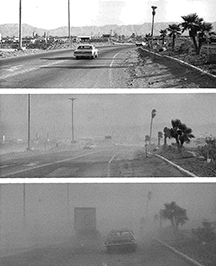 Strong winds and blowing dust rolled through the state yesterday, reminding us that motorists in Arizona must always be ready to "Pull Aside, Stay Alive."
And, judging from these photographs, that has always been the case…
Taken in 1979 at 19th Avenue and the Salt River in Phoenix, these pictures show an area before and during a pretty intense-looking dust storm.
Notice how the arrow sign and guardrail are clearly visible in the top two photos, but cannot be seen in the bottom photo where the dust storm has reduced visibility to almost zero?
Here we are, 34 years later, and drivers still face dangerous dust storms on the road.
While the ADOT Blog wasn't around to remind drivers of what to do when encountering a low-visibility storm back in 1979, we're here now and thought we'd share these dust storm driving tips:
Avoid driving into or through a dust storm.
If you encounter a dust storm, check traffic immediately around your vehicle (front, back and to the side) and begin slowing down.
Do not wait until poor visibility makes it difficult to safely pull off the roadway — do it as soon as possible. Completely exit the highway if you can, away from where other vehicles may travel.
Do not stop in a travel lane or in the emergency lane; look for a safe place to pull completely off the paved portion of the roadway.
Turn off all vehicle lights, including your emergency flashers.
Set your emergency brake and take your foot off the brake.
Stay in the vehicle with your seat-belts buckled and wait for the storm to pass.
Drivers of high-profile vehicles should be especially aware of changing weather conditions and travel at reduced speeds.
Be alert that any storm can cause power outages to overhead roadway lighting and traffic signals. Drive with caution and treat all intersections without signals as having stop signs in all directions.
For more information and driving tips, please visit PullAsideStayAlive.org.