Improvements being made on SR 587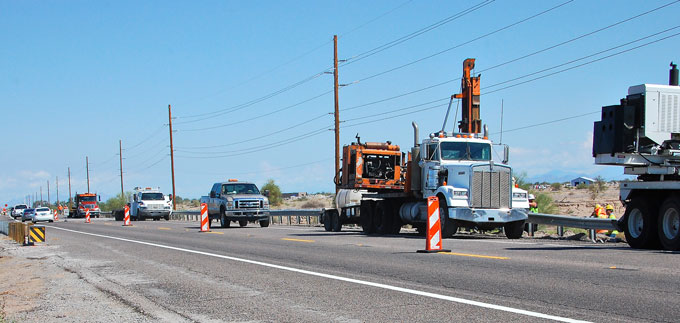 Right now, crews are repaving a six-mile stretch of SR 587 between Hunt Highway and I-10 within the Gila River Indian Community…
We wanted to blog about this project today, not only to inform you about the work happening on SR 587, but also to define a phrase that's often used in transportation construction.
We're referring to "Milling and Filling."
A mill and fill project (or mill and replace) just means that a layer of the existing asphalt pavement will be removed and replaced with a new layer of asphalt pavement. This helps to maintain the state's roads and prevents them from deteriorating to a condition that would be unsafe and costly to repair.
SR 587
Crews are currently milling and filling SR 587 in both directions. The project also includes guard rail and signage improvements in the corridor.
Drivers should know that work is occurring during daylight hours Monday through Friday, through the duration of the project. Some weekend or night work may be needed, too.
During paving operations, lane restrictions and driveway closures of about 30 minutes will be necessary.
A pilot car and flaggers will also be used during paving to guide drivers through the work zone. Traffic delays of up to 15 minutes can be expected – drivers are encouraged to plan extra travel time.
Work is expected to wrap up in late November. For more on this project, call the ADOT project hotline at 1-855-712-8530 or email [email protected].