DPS, ADOT to focus on I-17 north of Phoenix as 'Safety Corridor' over Labor Day weekend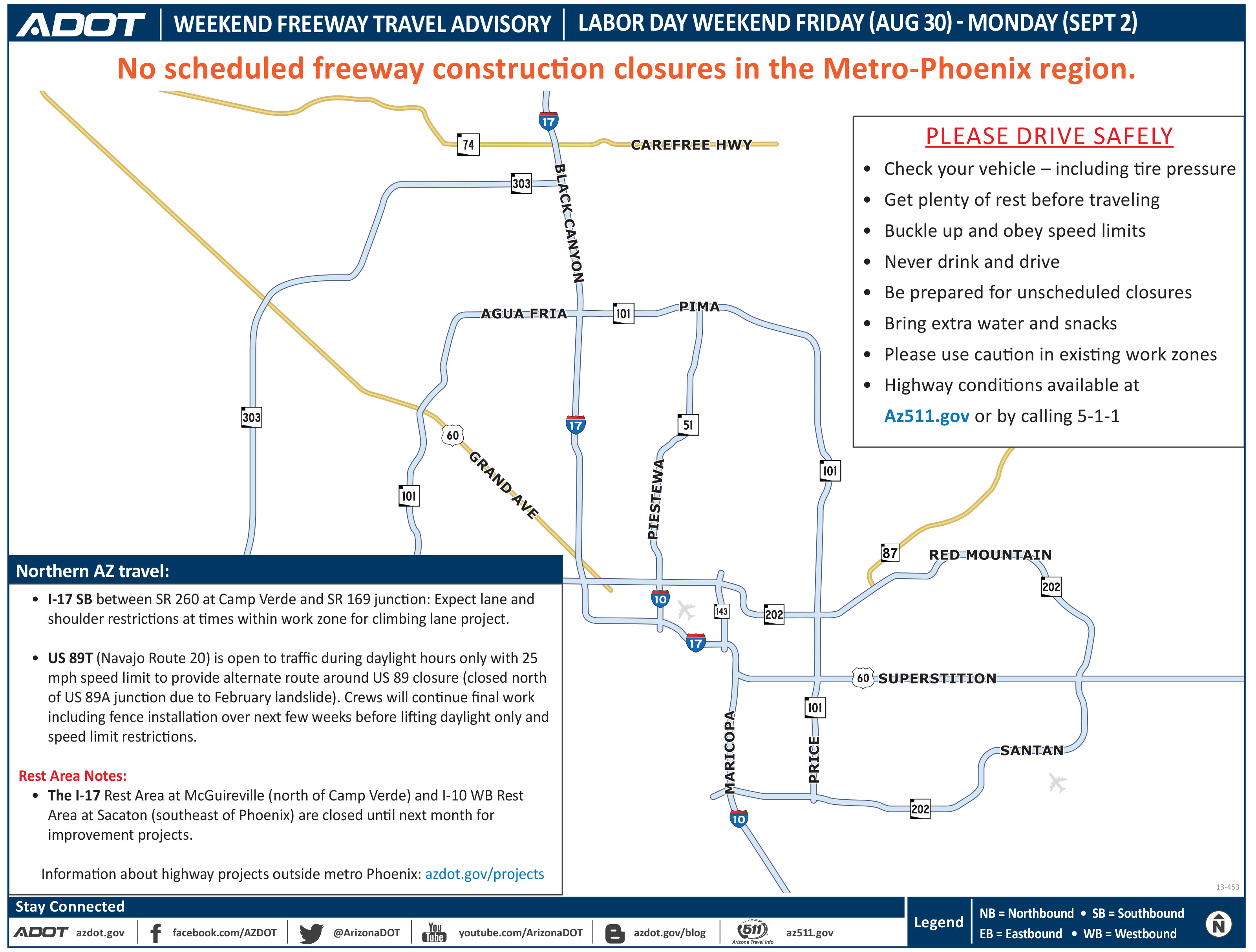 While not technically an end to the season (that happens later next month), Labor Day weekend is the time when many Arizonans say goodbye to summer by taking a trip out of town…
That translates to some very busy highways – especially at the start and end of the three-day weekend.
Interstate 17 north of the Phoenix area traditionally is one of the busiest spots and will be the focus of a safe-driving campaign starting today (Aug. 30), as part of a taskforce led by the Arizona Department of Public Safety, ADOT, the Governor's Office of Highway Safety and the Arizona Department of Health Services.
Stay Alert - Stay Alive
DPS will assign six highway patrol officers, two commercial vehicle enforcement officers and several service patrol members to work along I-17 between Black Canyon City and the SR 69 interchange at Cordes Junction today and Monday (Sept. 2) as part of the state's Labor Day Traffic Safety Taskforce.
ADOT will use its overhead message boards in the area to display the words "Safety Corridor – Stay Alert, Stay Alive," heading into and during the holiday weekend. In addition, portable message boards also will display safety messages such as "Buckle up" and will be available to advise drivers of incidents ahead.
ADOT also will have equipment ready, including a front loader, dump truck and roadway sweeper, to allow crews to respond to help DPS officers along I-17.
Safe Driving Fairs
DPS, ADOT, the Governor's Office of Highway Safety and Arizona Department of Health Services also have teamed up with the Daisy Mountain Fire Department, John C. Lincoln Deer Valley Medical Center and the Yavapai County Citizens Corps' Community Emergency Response Team to provide traffic safety information to drivers at two locations on Friday (Aug. 30) and Monday (Sept. 2).
Drivers can stop by the "Labor Day Safe Driving Fairs" at the Outlets at Anthem, I-17 and Anthem Way, as well as the Sunset Point Rest Area from 2 p.m. to 8 p.m. Friday and from 10 a.m. to 6 p.m. Monday. Personnel will hand out bottled water and, if necessary, be prepared to provide basic first aid for holiday weekend travelers.
By the numbers
According to ADOT statistics, Labor Day weekend was the deadliest holiday weekend in Arizona last year. Seventeen people were killed in 14 fatal crashes on highway and local roads across the state over the extended Labor Day weekend in 2012.
Driver behavior is the key factor in maintaining highway safety.
In addition to buckling up and never drinking and driving, motorists are urged to obey speed limits, avoid distractions and exercise patience while out on the road. Getting a good night's rest before traveling and checking your vehicle, including tire pressure, are other safety steps that drivers should take. You should also be prepared for possible changes in weather conditions.
Read more about the safe-driving task force on our website.
For more travel tips and information about what restrictions to expect out on the road (spoiler alert: ADOT will not be scheduling any construction-related closures over the weekend!), check out our recent news release.
Don't forget, before starting out on a trip, you can always check highway conditions by calling 511 or visiting az511.gov.