I-10 east of Tucson to close overnight March 8 for bridge demolition
If you have travel plans in the southeastern part of our state this Friday night/Saturday morning, you'll really want to pay attention to this…
I-10 will be closed in both directions from 9 p.m. Friday, March 8 until 6 a.m. Saturday, March 9 for the removal of the old Pantano Union Pacific Railroad Bridge.
That means drivers in the area will need to either alter their travel plans and avoid this segment of I-10 or prepare for a 67-mile detour.
Taking the detour
During the demolition, motorists will be guided by signs through the detour around the I-10 closure, which is between SR 83 east of Tucson (exit 281) and SR 90 west of Benson (exit 302) – see map below. Drivers can expect up to two hours of additional travel time.
Eastbound I-10 traffic will detour to SR 83 (Exit 281), travel south to SR 82 in Sonoita, turn left (east) on SR 82 to the SR 90 intersection, turn left (west) onto SR 90 and follow signs to reconnect with I-10 near Benson (Exit 302).
Westbound I-10 traffic will detour from the interstate at SR 90 (Exit 302), travel east to the SR 82 intersection, turn right (west) on SR 82 and travel to SR 83 in Sonoita, turn right (north) on SR 83 to reconnect with I-10 at Exit 281.
Some background…
Readers of the ADOT Blog may remember that this same segment of I-10 was closed overnight about two years ago for the demolition of the old Marsh Station traffic interchange (see the amazing video HERE and HERE).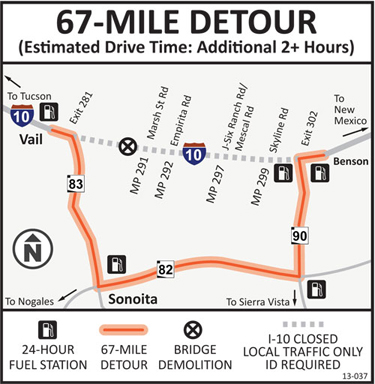 That bridge removal back in 2011 was part of the same project that's necessitating the removal of the Pantano Union Pacific Railroad Bridge this coming Friday.
Both the old Marsh Station interchange bridge and the UPRR bridge were approximately the same height, requiring trucks over 15 feet in height to use State Routes 83, 82 and 90 as a 67-mile detour off I-10.
A new Marsh Station traffic interchange opened on Dec. 20, 2010. It was constructed to accommodate today's taller trucks with a clearance of 16 feet and five inches, however the taller trucks haven't been able to use the segment of I-10, yet...
When the old UPRR bridge is removed, more trucks will be able to pass through the new traffic interchange and will no longer need to use the costly and time consuming detour. Most of the taller trucks that once needed to detour from I-10 will no longer use SR 83, freeing the scenic highway and the small town of Sonoita of congested truck traffic.