No state highway closures over Thanksgiving weekend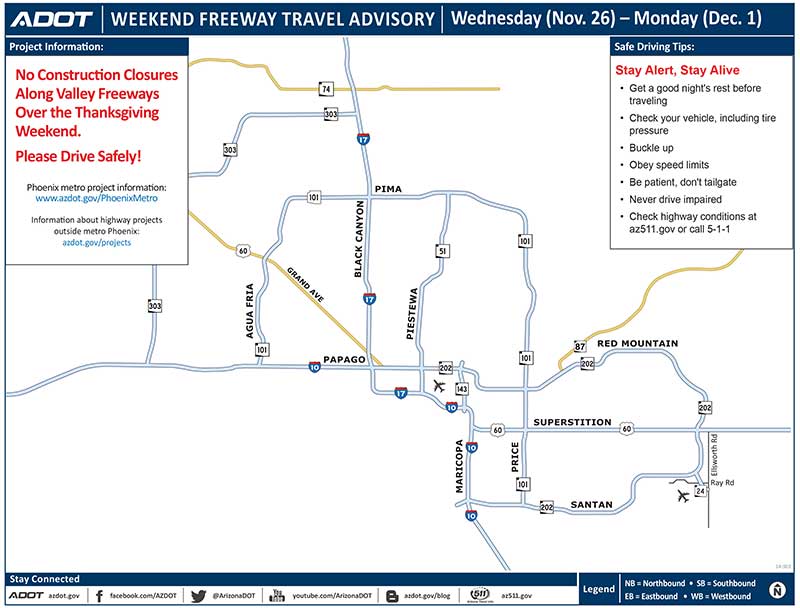 Traveling anywhere for Thanksgiving? If you are, you certainly won't be alone!
The upcoming holiday weekend is traditionally a busy one for the state's highways, which is why we'd like to share some travel details to help make your trip a safe one…
First, let's start with good news.
There will be no construction closures scheduled along Phoenix-area freeways or state highways over the holiday weekend (Wednesday afternoon through early Monday morning, Dec. 1).
Drivers should be prepared for unscheduled closures due to disabled vehicles or crashes. Motorists are also urged to stay alert and obey speed limits, especially in areas where existing work zones are in place.
Focus on safety
Last year, 13 people were killed in a total of 10 fatal crashes along Arizona highways and local roads over the Thanksgiving weekend. Three of those fatal crashes were alcohol-related. ADOT, the Department of Public Safety and Governor's Office of Highway Safety ask motorists to follow these safe-driving tips:
Get a good night's rest before heading out on a trip.
Check your vehicle, including tire pressure, fluid levels and the condition of engine belts.
Buckle up and double-check child safety seats.
Never drive while impaired. Arrange for a designated driver ahead of time.
Obey speed limits, be patient and avoid distractions. Don't text while driving.
Have an emergency preparedness kit that includes extra clothes, blankets, flashlights, snack foods and drinking water.
Teaming up to promote highway safety
ADOT also teams up with DPS and the Black Canyon City and Daisy Mountain fire departments to focus on emergency response efforts along Interstate 17 north of Phoenix, especially when heavier traffic is expected on Wednesday and Sunday afternoons. ADOT will position vehicles and equipment in the Anthem and Cordes Junction areas to allow crews to quickly respond to crashes or disabled vehicles and reopen the highway in the event of closures or lane restrictions.
Wait, there's more…
While ADOT's maintenance crews and essential staff will be working the holiday, ADOT and MVD offices will be closed Thursday, Nov. 27. Offices will reopen for normal business hours on Friday, Nov. 28.
For the latest highway conditions across Arizona, you can always visit ADOT's Travel Information site at az511.gov or call 511 (outside Arizona call 1-888-411-ROAD). ADOT's public information line for state highway conditions is 602-712-6513. You can also track closures and other highway conditions by following us on Twitter. Additional information about winter driving and items to include in an emergency preparedness kit can be found on ADOT's "Know Snow" webpage.
One last thing … we wish you a safe and happy holiday!