New interactive map makes it easy to find nearby MVD, third party offices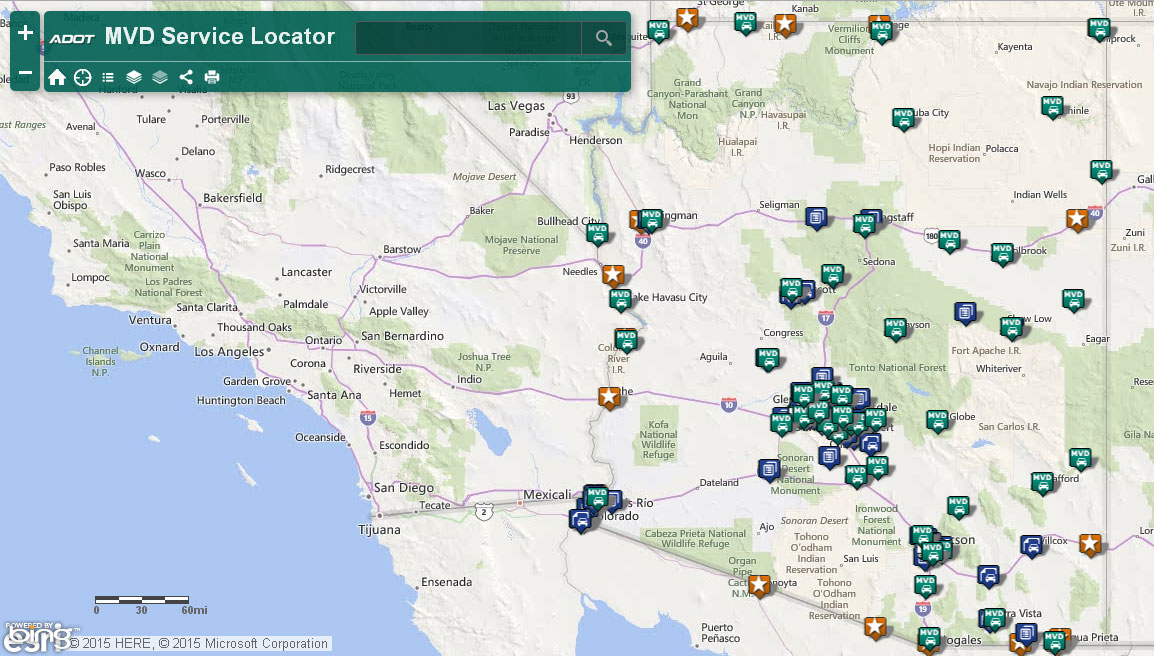 Finding a close-by MVD or Authorized Third Party office location just got a whole lot easier.
The MVD hours and locations page on ADOT's website now features an interactive map that helps users to easily locate a convenient office. It'll even give you step-by-step driving directions from your location, if you need them, and has estimated wait times at the MVD offices.
When you try it out for yourself, you'll see that beyond finding an address, you're also able to see what services are offered at each Authorized Third Party office, along with the hours of operation.
Since we keep mentioning these Authorized Third Party offices, we want to make sure you know what they are...
These locations provide a convenient option for quickly conducting MVD business and the companies provide many of the same services as MVD customer service offices, including title and registration transactions. During the past couple of months, several third party offices have also expanded their operations to offer driver license services, bringing the total now to 16. ADOT oversees the businesses to ensure that stringent operational requirements are being followed. MVD also provides third party employees with extensive training to ensure they can process transactions accurately. Many of these providers have extended weekday hours and are open weekends – there is often little wait. A convenience fee may be collected by third parties in addition to the appropriate state fees.
"Customers in the Phoenix area, especially, may be surprised to see there are so many third party options nearby," says MVD Assistant Division Director-Third Party Program Juan Beltran. "All of them provide title and registration services and a smaller but growing number offer driver license services."
OK, back to the new map.
ADOT's Senior GIS Coordinator Mark Flahan says the map was created within about six months and that it's designed to automatically update every day, ensuring that the most current information is always available.
"It takes a nightly scan of all our third party locations, geocodes them and locates them on the map. The map is never more than 24-hours old," said Flahan, adding that the map also works on mobile devices.
Although the map makes it easier to find MVD and Authorized Third Party locations, you're still encouraged to visit azmvdnow.gov, the MVD's official self-service website where two-thirds of all MVD services can be completed at home or on the go.