Driving alert, slowing down can save a lives in work zones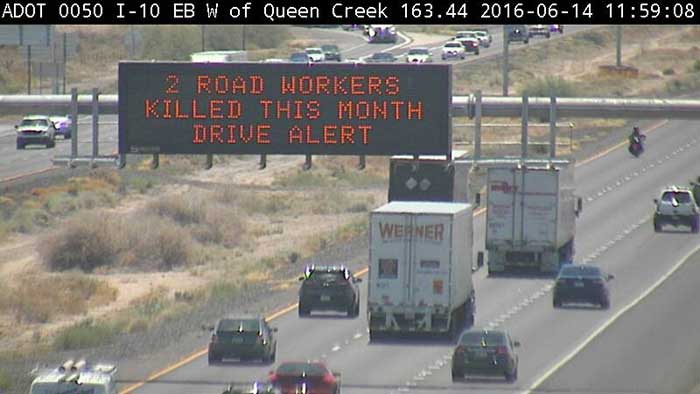 By Caroline Carpenter / ADOT Communications
Following two incidents in the past 10 days in which road workers having been killed on state highways, we're using message boards to remind drivers to pay attention in work zones and heed the "Move Over" law. These types of crashes are avoidable. Motorists should pay extra attention in work zones, avoid distracted driving and move over for vehicles on the side of the road, such as tow trucks and emergency responders, that have flashing lights.
You'll see the message below on ADOT's signs this week:
2 ROAD WORKERS
KILLED THIS MONTH
DRIVE ALERT
Slowing down in work zones and staying alert helps highway workers get home safely and can help you as well. According to the Federal Highway Administration, drivers and vehicle passengers account for 82 percent of work zone fatalities.
Collisions are the second-leading cause of law enforcement deaths and firefighter fatalities nationwide.
The "Move Over" law was designed to help protect emergency workers doing their jobs on our roadways. In 2011, this law was expanded to include all vehicles, not just emergency response vehicles. It requires drivers to move one lane over from any vehicle with flashing lights pulled over on the side of the road. If it's not possible to safely move over, drivers should slow down. For more information, visit moveoverAZ.org.
Here are safety tips for driving through work zones:
Expect the unexpected: Normal speed limits may be reduced, traffic lanes may be restricted and people may be working on or near the road.
Slow down: Speeding is one of the major causes of crashes in work zones.
Keep a safe distance: The most common type of accident in a work zone is a rear-end collision. Maintain two car lengths between you and the car in front of you as well as road crews and their equipment.
Pay attention: The warning signs are there to help you move safely through the work zone. Observe the posted signs.
Obey road crew flaggers: The flagger knows what is best for moving traffic safely in the work zone. A flagger has the same authority as a regulatory sign. You can be cited for disobeying a flagger's directions.
Stay alert and minimize distractions: Dedicate your full attention to the roadway and avoid changing radio stations or using cellphones while driving in a work zone.
Keep up with traffic flow: Motorists can help maintain traffic flow and posted speeds by merging as soon as possible. Do not drive right up to the lane closure and then try to barge in.
Check road conditions before traveling: Schedule enough time to drive safely and check for traffic information by calling 511 or by logging on to az511.gov.
Be patient: Remember, crews are working to improve the road for you.