I-10: SR85 to Verrado Way Improvements
Overview:
The Arizona Department of Transportation is designing traffic interchange and other improvements on Interstate 10 from State Route 85 to Verrado Way in the city of Buckeye. This improvement project includes adding an additional travel lane in each direction, which would be constructed in the existing median. It also includes improving the interchanges at Miller and Watson roads to help alleviate traffic congestion.
Project schedule
Pending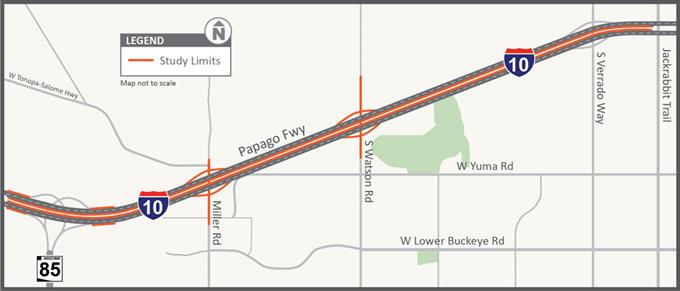 Stay Informed!
By email: Subscribe to receive project updates and traffic alerts.
By phone: Call the ADOT Bilingual Project Information Line at 855.712.8530.
Online: Submit a question or comment through the ADOT website. Visit azdot.gov/Contact and then select Projects from the dropdown menu.
Twitter: Follow ADOT on Twitter (@ArizonaDOT) for real-time highway conditions statewide.