I-10: SR85 to Verrado Way Improvements
Overview:
The Arizona Department of Transportation is in the early stages of designing improvements for Interstate 10 from State Route 85 to Verrado Way in the city of Buckeye. This improvement project includes adding an additional lane of travel, in the median, on I-10 in each direction from SR 85 to Verrado Way. The project also includes traffic interchange improvements at Miller and Watson roads to help alleviate traffic congestion.
Project schedule
The schedule for this project is as follows:
Early 2019: Contract awarded to design consultant
2019 – 2020: Final design phase
Summer 2020: Construction begins
Fall 2022: Construction completed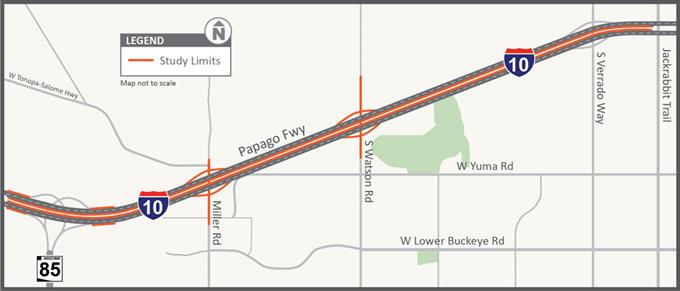 Need more information?
Telephone: Call the ADOT Project Information Line at 855.712.8530
Email: Submit a question or comment by email
Mail: ADOT Communications, 1655 W. Jackson Street MD 126F, Phoenix, AZ 85007